There's a reason why Nexa is known as the best SEO agency in the region and it's not just because of the awards we've won.
At Nexa, we do things differently. In a crowded industry, being different means you stand out and in SEO standing out from the crowd is the ultimate goal for every business.
Here's our approach to SEO - Search Engine Ownership and it's an approach that you're unlikely to hear from any of our competitors.
Should You Hire a SEO Company for your Business?
We're clearly biased, but in our opinion, the answer is a resounding "yes"! But to fully understand the reasons why, much of your decision should be based on how important it is for your business to rank well (ie at the top of page 1) of Google search engine results for searches that are relevant to your business (ie your products and services).
However, as a business professional, you're probably wondering what the actual value of ranking well is. You need to know how much this is worth and how much SEO can actually benefit your business. In short, you need to know how much SEO is worth in cold hard cash!
At Nexa, we believe that Search Engine Optimisation (or what we prefer to call "Search Engine Ownership" ) is one of the most valuable assets for any business.
Is your Website Visible Online?
It's important for businesses like ours to practice what we preach. After all, why would you trust an agency to look after an area of your business that they neglect for theirs. That's why, for the purpose of this article, we will take you through Nexa's very own, personal case study. We won't share details or data from successful client case studies (btw, we have plenty of award winning examples), but rather our very own, actual data.
But before we start some good context for your business would be to see exactly where your website currently ranks on Google. Search for the products and services that your business offers and keep a note of these. Mark down where your website currently ranks. (Page 1, position 1 should be your objective). If you can't find your website within the first 3 pages of Google, stop searching. It's likely that your customers won't look that far down the rankings, so there's little point in you doing the same.
Studies have shown that 91.5% of searchers do not go past the first page of the search results and over 30% of users will click on the first website in the search results. So, if you cannot find your website online, you are passing business over to your competitors and losing out on valuable leads in the process. It is SEO that has the power to change this, but it is not enough to tell you that this will benefit your business, we want to show you just how much strong SEO is actually worth.
Determining the Value of SEO
Our Search Engine Ownership approach focuses on three main areas that are important for any business.
- Your company's search visibility
- Your search visibility in relation to your competitors
- The

VALUE

of your organic traffic in actual currency
If you have ever searched for a service or product on a search engine such as Google, you will be taken to a page that ranks websites for you to help you find what you are looking for. Have you ever Googled your products and services and checked to see if your business appears on the first page of the search results? This is vital and this is what is known as search visibility.
Search Engine Visibility
Search Visibility is an actual metric that can measure how visible your company is across every search term related to your business and industry and the traffic your website is likely to generate from this.
Below, we will take a look at the Search Visibility of Nexa and how having a strong search visibility is an asset to a business:
From a extensive set of 400 keywords and key-phrases based on Nexa's service offering, Nexa's search visibility score is at 75.1% for desktop and laptop searches, and is at 75.9% for mobile searches based on June 2020 data. What that means is that for any of those 400 search terms, irrespective of volume, Nexa is likely to convert 75% of these types of searches into traffic onto our website or blog.
Search Visibility in Relation to Competitors
When it comes to Search Engine Ownership, a key metric to consider is where your business ranks in comparison to your competitors. As stated previously, ranking higher than your competitors will get you more leads, make you more sales driven from greater brand awareness.
Here, we take a look at Nexa's search visibility in comparison to its competitors. As outlined above, Nexa has a search visibility score of 75.1% and based on the exact same set of 400 keywords and key phrases, our closest competitor's score sits at 33.7%.
Now, how does this convert into website traffic? As of June 2020, our Search Engine Visibility drove 7,469 visitors to our website, and all of these visitors came from organic search (search that was not paid for). For the same set of keywords and key-phrases, our competitor only received 2,453 visits in the same time period. This means that we get 3 x more visits than our closest competitor.
And this number can be converted into monetary value.
Building Tangible Value with Search Engine Ownership
When it comes to Search Engine Ownership, we want to show our clients the value of the service. As opposed to regular Search Engine Optimisation services, we want to provide our clients with insight and show them just how much they can gain from owning the search engine results.
So, how much is the 3 x more visits to our website worth? If a new competitor came into the market they would need to invest in Google advertising to achieve the same traffic that Nexa is achieving, and Nexa is achieving this traffic organically!
In this case, a new company would need to spend US$53,086 per month to achieve the same kind of traffic as Nexa. Over a 12 month period this equates to US$637,032.
This is the equivalent value of Nexa's Search Engine Ownership every year and the next time you value your business, imagine the impact that Search Engine Ownership can have on your business' valuation.
But SEO isn't a static piece of data. The data above is for June 2020. If we look at how that data changes month by month, the numbers can be dramatic. Here's what July 2020 looked like for Nexa: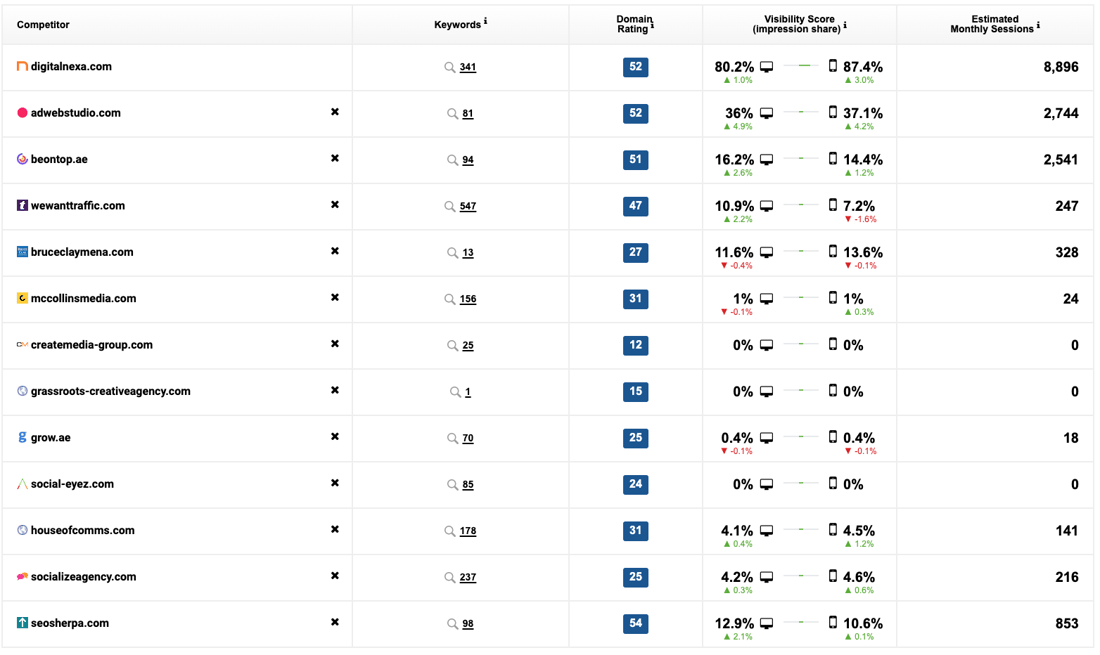 From our list of 400 keywords, 341 of these drove traffic to our website in July. Monthly website visits increased from 7,469 in June to 8,896 in July. How does this equate to actual value? Well, despite the average cost per click reduced from $7.20 to $7.13, the actual value of this additional traffic generated means that the overall value of our organic traffic increased from $53,086 to $56,400 for the month.
SEO is a measurable business asset - one that has a clear value. It's time for businesses to start thinking in this way to create a differential between them and their competitors. One that isn't easy to buy or replicate.