Join us on set
Nexa's video and podcasting studio is designed to provide you with everything you need to create standout multimedia content. We offer the space for you to record your content in Dubai, with a range of services at your fingertips, from strategy to post production as well.
To create the best content, you'll need a professional setup. At Nexa's videography and podcasting studio, you'll have just that. Rentals include use of the space and all of the gear you'll need to produce videos and podcasts, from audio equipment to cameras, lighting, and the like.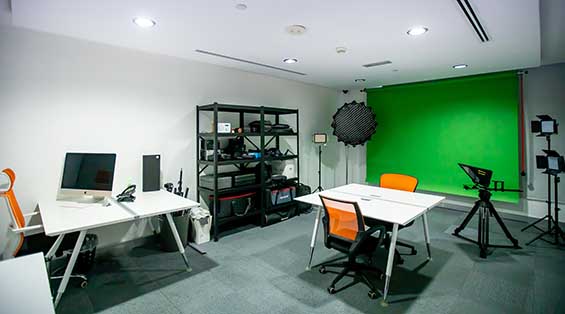 Studio Rental Services and Product List
Our state-of-the-art studio can be used for both podcasting and videography. These services can also be combined to provide a well rounded multimedia marketing experience in a single space.
Videography Services
Nexa's studio rental starts from
AED 3,500 per day
Options include:
Green screen or colored backdrop of your choosing
Teleprompter
Camera operator
Lighting setup
Post-Production Services?
Prices and packages can be customised as per your requirements. Speak to us today and we'll provide this for you.
Podcasting Services
Record your podcast with us
AED 350 per hour
This covers:
High quality WAV & MP4 format recordings
Looking to create a recorded video for your podcast? Add AED 150 per hour and we'll provide a high-quality video recording for you.
The Benefits of Video and Podcasting for Marketing
Our space can be used for both video and podcasting content creation, allowing you the opportunity to leverage off these powerful marketing and entertainment tactics. Below we outline the benefits of both podcasting and video for today's digital audience.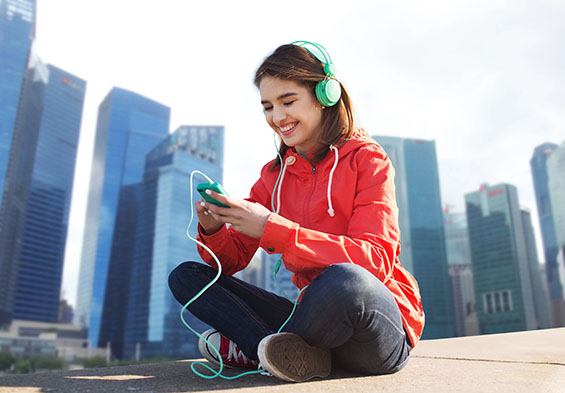 Video content is vital for today's digitally-savvy consumer. As it stands, your target market is inundated with text-based content and static imagery and they are now seeking out something more entertaining and engaging on their news feeds. This is where video comes into play.
According to recent stats, a staggering 64% of consumers make a purchase after watching a branded social media video while 68% prefer video content compared to ebooks, articles and presentations. This speaks to the rise of video marketing in the digital age and this tactic cannot be ignored by marketers and businesses looking to reach their target audience. Not yet convinced? Take a look at the benefits that come with this tactic.
Explain your service/product clearly
Video content is a powerful way to help potential buyers learn about your service or product. Consumers will only decide to purchase once they understand the value of your business and how you can help them. Video content is the best tool to educate your audience as it is engaging, showcases your service or product in action, and has the power to create a more personalized and genuine experience for the viewer.
Measurable Return on Investment
Videos provide a measurable return on investment. This, of course, depends on a variety of factors, including the studio and production company you work with to produce and distribute your videos. Thanks to online analytics and metrics, you are able to track your video success and with the data you collect you have the ability to guide the viewer through the sales pipeline. Essentially, video equates to increased sales that are measurable. And who doesn't want that?
Video offers variety
There are many options when it comes to how you can use video content. This means you are able to create a strategy that is in-line with your marketing goals. From videos for brand awareness that can be shared across a multitude of social media platforms to onboarding videos, webinars, personalized sales videos, videos specifically designed for lead generation purposes, interactive videos and shoppable video content. With all of these options, you are able to create a strategy that drives the viewer through the sales pipeline - from the awareness stage through to the purchase stage.
Podcasting is an intimate and engaging way to communicate with your audience, and podcast listeners are known to be both active and highly engaged. Creating a series about a particular topic encourages your audience to tune in regularly and helps to establish your brand as an industry leader.
Podcasting is a medium that creates a space for informative content to be shared in a mobile- and multi-tasking-friendly manner. There are versatile formats for podcasting shows, from traditional storytelling to Q&As with guest speakers. The conversational element helps to build strong and long-term relationships. Podcasting content can also be repurposed to include recorded video segments and blog post content.
Best of all? It's super easy to get started and one of the most affordable digital marketing channels.
Brand Building
Provide a voice for your business since you can speak on what your brand is all about, what it knows, and what it can do. This helps to establish your brand and build credibility within the industry and marketplace.
Instilling Loyalty
Podcasting shows are a consistent stream of content with regularly added episodes that people can tune into. This creates loyalty among audiences, as well as support and investment of time on behalf of the listener. This is instilled through the provision of value and reliability.
Expand Your Reach
Podcasting platforms are home to all sorts of shows, and by sharing yours, you can reach new audiences with shared interests. This means you can grow your audience by connecting with new customers, potential employees and other industry leaders. Oh, and it'll help optimize your rankings on search engines and lead to a boost in web traffic.
At Nexa, our clients are privy to a complete video and podcast service, from renting studio space to the full production and post-production experience. Our goal is to help you plan, create and share video and podcast content that fulfills its purpose.
Stay Plugged
Subscribe to our newsletter and stay updated on the latest design stories, new projects and case studies.