Social Media Marketing is ever-changing. It's therefore important for your business to keep up to date with the latest developments, technologies and of course, opportunities available when it comes to marketing your business on platforms such as Facebook, Twitter, Instagram, Snapchat, LinkedIn or Pinterest. As with many things online, those who take advantage of online marketing opportunities before others, usually have the greatest success with the least amount of cost incurred. Social Media Marketing is no different.
Platforms such as Facebook, Instagram and Twitter now filter the content that is shared by brands. This means that most users no longer see the content being shared even if they are following the brand or page on the social media platform. This leaves most businesses with no other option than to consider advertising their content in order to reach their desired target audience.
But this isn't necessarily a bad thing. Imagine having access to almost all of the data that companies such as Facebook have in order to target potential customers for your business. With Social Media Advertising, this is exactly what you have!
Social Media Campaigns and Advertising
Social Media Marketing (SMM) is ever-changing. It's therefore crucial for your business to keep up to date with the latest trends, developments, technologies and opportunities available. It includes both organic and paid advertising.
Social media platforms form part of all well balanced digital marketing strategies. This encourages trust and optimal ways to boost your business's exposure. Social media continues to become more business-friendly, with increasing opportunities for online shopping.
There are several social media platforms to choose from, and deciding on which ones to use can be just as important as how to use them. The top platforms include Facebook, Instagram, LinkedIn, YouTube, TikTok and Snapchat.
SMM includes research, strategy development, content creation, distribution, community management and reporting. With each platform having specific needs, it is clear to see that social media is a full-time job for a brand.
Many platforms encourage ads, with small starting costs required, targeted audience suggestions and flexible options throughout the campaign. An agency can help you to develop the campaigns and content, as well as define the standard options more acutely.
Social Media Marketing Content
The content which is shared on these platforms needs to be planned out according to a content calendar. There are systems which can automate these processes for you to improve your productivity. What your audiences seek above all else is value.
To communicate valuable content, there needs to be a concerted effort to create high-quality content. Whether it is helpful, informative or promotional, the intent needs to be clear and the execution flawless. This is where an agency can provide a significant advantage since they can provide you with visual, auditory and textual content.
Since social media is by and large a visual experience, aesthetics also play an essential role. Social media marketers are required to have an eye for design, curating the brand's values, look and feel and translating that via their social media channels.
Social Media Marketing Services that Nexa can Help you with
Video Content: From live videos to edited clips and animations, video has become the most engaging form of content to share on social media.
Direct Purchases: Social media channels are updating to include direct purchases, providing businesses with added avenues for sales.
Stories: Ephemeral content is creative and popular, serving as an excellent daily reminder of your brand for audiences.
Social Listening: Listening refers to the opportunity for businesses to get a deeper understanding of their target audience.
SEO: Having a strong social media presence helps to improve your business's SEO ranking.
Chat: Direct messaging via these channels provides quick means of communicating with your audience. The use of chatbots can automate this process.
Influencer marketing: Influencers can be a highly effective way to market your business. Businesses today are building long-term relationships with these brand advocates for optimal returns.
User-generated content: Encouraging users to share their experiences with your brand is key. This can result in positive profiling in the form of reviews, shares and content.
Community: Building online communities is at the heart of social media marketing. This includes becoming a valuable societal member and supporting and encouraging others while sharing your brand's values.
Localisation: Using the 'near me' tag on social media provides users with convenience and relevance.
Interactivity: Utilising AR?VR and 360-degree videos promote interactivity between businesses and audiences. These factors provide engaging ways to explore your brand and can be highly influential.
Nexa has experience working with a variety of brands on successful campaigns. From content ideation to development and management, we are your fully integrated creative agency, ready to take your social media to the next level.
IS YOUR COMPANY READY TO GROW IN 2023?
Social Media E-Guide
The way business is conducted has drastically changed since the global pandemic.
Social and digital marketing is now at the forefront of marketing activity as more and more businesses look to these channels to generate new business opportunities foregoing strategies like brand awareness and instead favouring fast, lead generation or sales activities.
With this in mind, Andrew Thomas and Ravi Vyas have crafted Nexa's latest eBook - Social Media in 2023. By reading this book, you will learn:
The latest social media strategies and trends of 2023.

How to optimize social media for business growth

How to overcome a recession using social media

How to optimize your social media campaigns to generate more leads

The importance of social media influencers

The latest social media platforms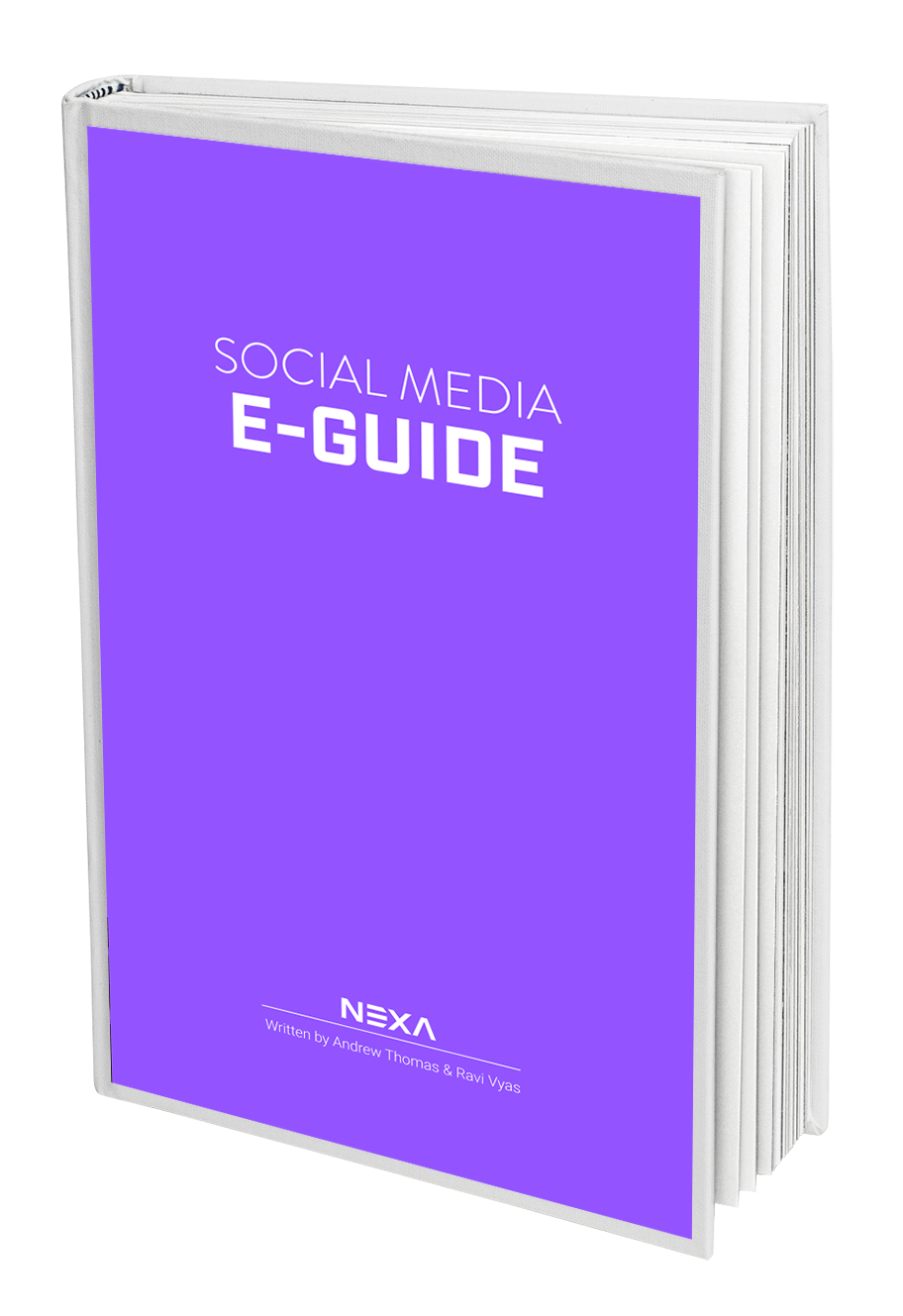 Stay Plugged
Subscribe to our newsletter and stay updated on the latest design stories, new projects and case studies.