LEAD GENERATION SPECIALISTS
Why outsource your Sales Lead Generation Activities?
Does your business need a regular flow of qualified sales leads? If so, we can help. Nexa has been generating highly qualified sales leads for businesses of all types for more than a decade.
During this time, we have helped companies in many industries including Real Estate, Healthcare, Wealth Management, Education, Software (& SAAS), Industrial Services, Branding & Media Agencies and Business Services.
We have both the experience and track record to help businesses in all industries generate highly qualified sales leads.
More about our Lead Generation Services
As a Diamond HubSpot Agency Partner and a top-tiered Google Partner, Nexa prides itself on providing best-in-class lead generation services backed by some of the largest technology partners in the world.
We specialize in providing B2B lead generation using digital marketing campaigns, lead qualification tools and sales lead qualification via our partners at Pipeline Business Development Solutions, a company that Nexa is proud to be a shareholder.
Our Lead Generation goals are centred around taking a client's prospects (or leads) as close as possible to a closed deal.
This diagram highlights our approach: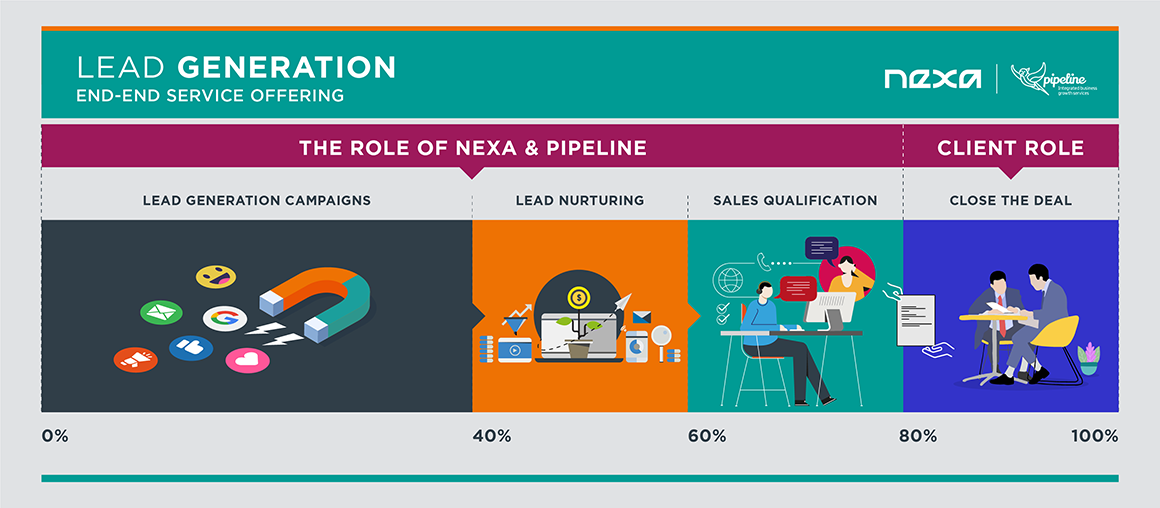 Our Lead Generation processes have been optimized throughout our 15-year track record. In short, we can look at any industry, apply our know-how and experience and suggest the best possible lead generation strategy for our clients.
As mentioned above, we have vast experience with multiple industries and business sectors and would be happy to provide references and case studies for you.
Lead generation is based on attracting potential clients to your business. To do this, various marketing activities are carried out. Leads are secured when there is a valuable exchange of information between your business and them. From this stage, we work on nurturing this relationship to ensure conversion and brand loyalty stems from it.
Lead generation works best when both marketing and sales are aligned and working together. Nexa places emphasis on providing clients with sales qualified leads or contacts who have expressed their interest in becoming a customer. This is a valuable resource for businesses to have. Sales are highly possible with these clients, who require assistance in guiding them along their buyer journey.
Nexa helps businesses to capture leads and use lead magnets. These are valuable offers that are available to prospects at various stages of their customer journey. Examples of this include content, email and social media marketing, as well as advertising (and retargeting), trials and referrals.
For effective sales lead generation, you need to attract, engage and convert prospects. The purpose of these magnets is to attract and capture the contact details (with lead forms), thus starting the process of direct engagement between the business and customer.
The leads generated for sales purposes are qualified based on their match to the ideal customer persona, your business's ability to satisfy a need of theirs and securing access to these decision-makers.
The Region's Only Diamond HubSpot Partner Agency
The Region's Only Diamond HubSpot Partner Agency
The term 'Inbound Marketing' was coined by the founders of HubSpot, a marketing automation and sales enablement company based in Boston, USA. This CRM software embodies a centralized approach, where sales and marketing work together.
The HubSpot Marketing, Sales & Customer Service Platforms help businesses all over the world create sales-focused marketing campaigns that allow companies to fully understand the return on investment (ROI) of their marketing and sales activities.
Nexa is proud to be the first and only Diamond HubSpot Partner Agency. Together with HubSpot, our team works with many clients using the HubSpot platform to drive sales and help grow their businesses.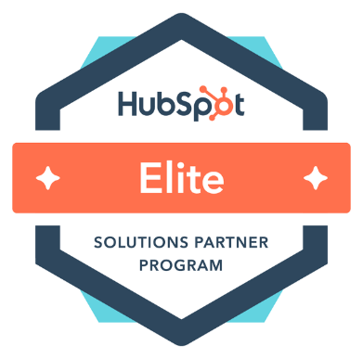 IS YOUR COMPANY SET TO SURVIVE IN 2022?
Business Survival in 2022
Most of what we understood about business pre-2020 is irrelevant and over the last 2 years, we have had to reimagine business processes in the new normal by capitalizing on digital technology. We learned to act fast, be nimble in our approaches and flow with the consistent movement and disruption across all industries.
This change will be a part of our lives for many years to come and as we adjust to the new normal, we are now in a position to use what we have learned to craft a powerful future for our businesses.
2022 is about mastering these changes and leveraging off digital technologies and marketing technologies in order to achieve consistent business growth.
In this eBook, we'll take you through digital growth tools and techniques that you can use to ensure business growth and continued success in 2022 and beyond.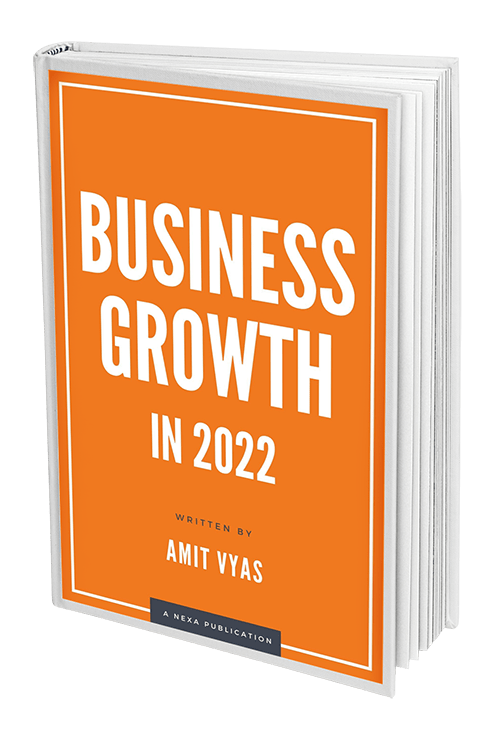 WE'D LOVE TO SPEAK TO YOU
Get in touch
Complete the form below and one of our senior team will contact you personally
Our Offices
Nexa Head Office
Office 1205, Grosvenor Business Tower,
Tecom, Dubai, UAE
P.O. Box: 123439
Nexa UK Ltd.
Peter House, Oxford Street,
Manchester, M1 5AN
UK
Nexa NYC Office
Suite 219, 126 Dudley Street,
Jersey City, New York
USA
Nexa AUSTRALIA Office
Melbourne 3000, Victoria
Australia
FOLLOW US :
Stay Plugged
Subscribe to our newsletter and stay updated on the latest design stories, new projects and case studies.