Background
Bounce Middle East is part of a global franchise of freestyle parks across 16 countries and is the biggest trampoline and entertainment park in the region. Bounce combines trampolines, airbags and adventure challenge features to create freestyle playgrounds that lead the world in action entertainment.
Bounce ME reached out to NEXA with an issue they had with the set up of their CRM. They were struggling to keep up with their systems while using the same tools as their HQ, which didn't fit their needs and cater to the requirements of the Middle Eastern market. The CRM and API experts at NEXA came together to audit their systems architecture and identify leaks and gaps as well as address the pain points of the client.
Challenges:
Their customer data was spread across multiple systems that made it difficult for them to understand their customer profiles and communicate the right message to their clients.

Inconsistency in data capture and lack of data validation measures that made it difficult to filter the right audience and maintain a clean database.

Data silos due to systems that weren't integrated or had limited integration which contributed to limited data sharing between some systems.
The NEXA team had to implement a lot of manual work, such as:
Downloading data from one system and uploading it to another

Manually setting up one of the campaigns and manually putting together performance reports

A lot of data sitting in excel sheets, which was insecure and likely to be misplaced or deleted accidentally

We decided to go with Roller for their POS system as the nature of the venue is walk-in style and integrating Roller with HubSpot helped close the loop.
Solution:
Since the nature of the Bounce ME venues is generally walk-ins, the client not only wanted to know how their marketing efforts were converting to customers but also needed a POS system that helped them capture all of the necessary customer and transactional information that helped them close the customer profile loop.
To resolve the issue of closing the customer data loop with POS information, we recommended the client to use the Roller system to integrate with HubSpot alongside onboarding the client onto HubSpot.
The solution the Roller system offered included:
Collecting customer data through online booking or walk-in to tie back with the customer profile and any marketing campaigns.

To have a digital copy of the e-waiver form saved in the customer's record in HubSpot.

Collecting transaction data from the Roller POS system about products or packages purchased helps the team at Bounce understand the purchasing behavior of their clients.

An additional benefit the Roller system provided for Bounce ME was an Injury report directly linked to the customer's record in HubSpot for legal purposes.
Results:
With the help of the data collected from the Roller POS integration, Bounce ME was able to create specific data segments for retargeting and cross-sell/up-sell campaigns.
The data collected also helped generate reports for Bounce ME, helping the client analyze the performance of each of their venues by revenue and number of members, as well as gaining an understanding of the performance of their different products to understand which ones are performing better than others by venue/region. The reports also helped the client understand performance and conversions from their marketing campaigns and which sources were helping generate the most conversions.
With the integration with the Roller POS, we have been able to track the registration and customer journey for 45,022 Bounce ME contacts, out of which 16,547 (36.7%) eventually became customers.
The graph below is a comparison of the number of deals closed per month and the number of contacts those deals were associated with. We can clearly see that each month the ratio of deals to contacts is greater than 1:1 indicating that Bounce ME, with their understanding of customers and their purchasing behavior, have been able to successfully get repeat sales from their customers.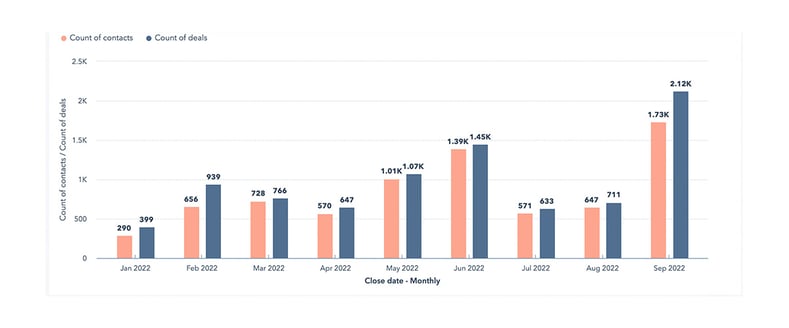 The graph below shows a breakdown of the ratio of closed won deals to closed lost deals for each of their venues. For most of their venues we can see that this ratio is greater than 1:1 and the ability to track this information in HubSpot helps the client focus their activity where the ratio is less than or close to 1:1.

The below graph represents the Bounce Freestyle Academy (BFA), which is a separate product line item and in this graph we can see that they have been able to retain 50% of their customers for this product line.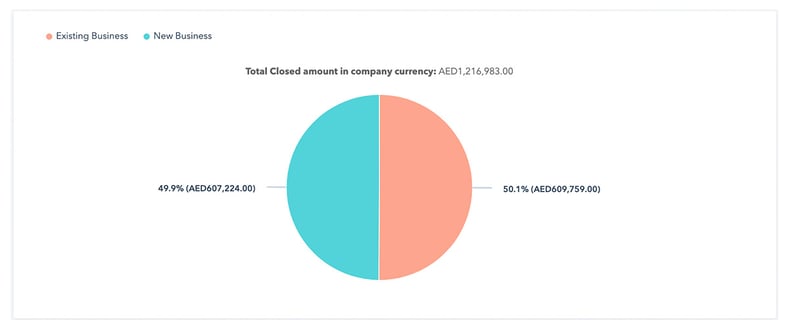 Impact:
The Roller integration with HubSpot helped Bounce ME meet their primary objective of being able to capture a full profile of their customers and their behavior which helped improve the overall customer experience with the brand.

It also helped the business secure a good retention rate, which meant an increase in word of mouth and increase in customer satisfaction (NPS).

Being able to collect this information also led the marketing team at Bounce ME to build more precise segmentations for targeted campaigns and makes it easier to track the entire customer journey and address any leaks or gaps in their process.

HubSpot was able to attribute over USD 1 Million (AED 5 Million) in revenue, from the first interactions in comparison to other activities.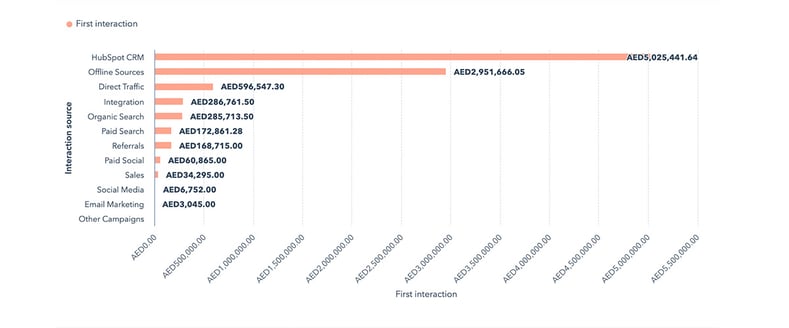 Testimonial
We reached out to NEXA to assist us in the marketing of our brand as well as to assist us in the automation of data collection and processes.
Thanks to NEXA's professionalism, technological mastery and HubSpot expertise, we were able to streamline our processes and collect relevant lead data in order to successfully grow our business while making a significant and measurable return on our investment.
We continue to grow as a business and are truly grateful for what we have learned and accomplished in the time we have worked with the NEXA team.
Bounce ME, Dubai
Need a quote?
Just ask…
Get in touch with us if you have a web development or digital marketing project that you would like to get
underway!