Streamline your sales processes
If you are using the HubSpot CRM but require further integration into other sales, marketing or database tools, speak to us. We provide both custom and off-the-shelf integrations for businesses located anywhere in the world.
What is HubSpot?
HubSpot CRM Integration Made Simple
Our HubSpot development team has experience with integrating HubSpot's CRM with several platforms that can increase the efficiency and data access for your business. HubSpot is integrated with over 500 other software systems to help your team streamline activities and in doing so, increase both efficiency and productivity.
Nexa can integrate HubSpot with numerous platforms, including:
HubSpot & Whatsapp
HubSpot & Sales Call Tracking / Recording
HubSpot & Quickbooks
HubSpot & Shopify
HubSpot & Google / G-Suite
HubSpot & Office 365
HubSpot & Zoom
HubSpot & Go to Webinar
HubSpot & Propspace (Property Finder's CRM)
HubSpot & Bayut (Real Estate CRM)
HubSpot & MailChimp
and many, many more
These integrations are among HubSpot's most highly rated benefits for businesses. The full list of integrations is shown below: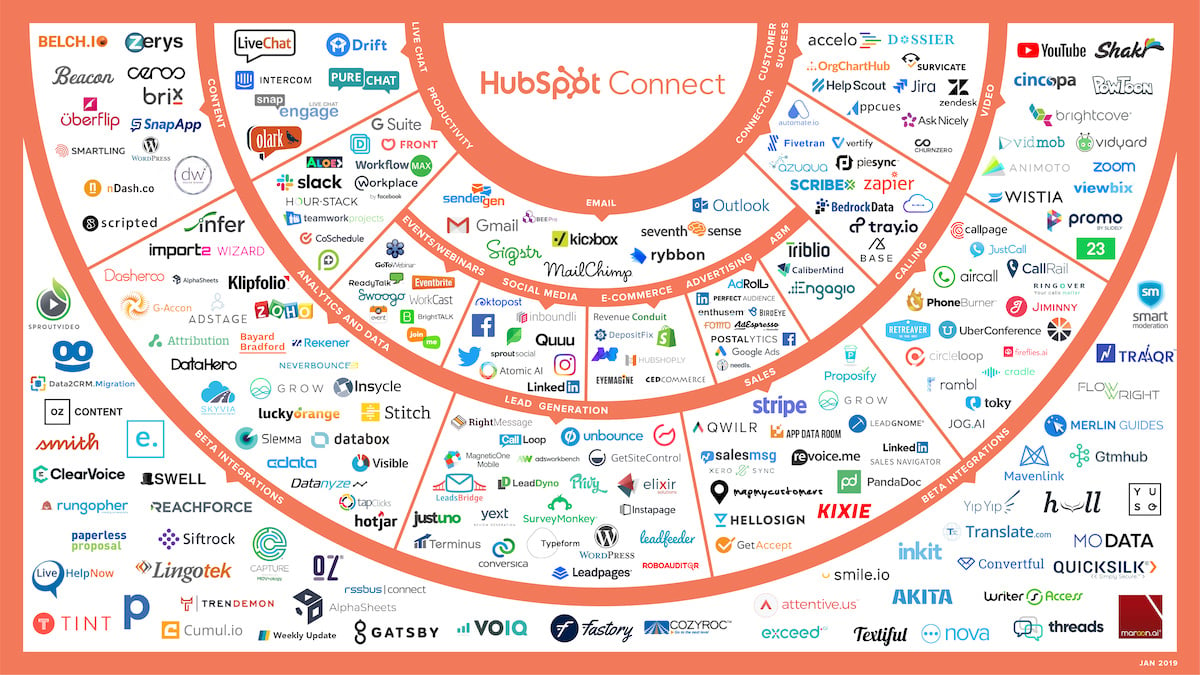 By integrating HubSpot with the various software tools available, you can strengthen relationships with your audiences, track and increase leads and conversions and manage all of your systems from a centralised platform. There are a diverse set of integrations available to assist with your:
Social media
Emails
Website
Telesales
E-commerce
Automation
Tracking
Accounting
Plugins
As HubSpot partners, we can develop a HubSpot strategy for you, showing you all you need to know to run your business optimally. We provide best practice solutions that boost our clients' revenue.
If your business is not yet using HubSpot, we can help you to migrate to it. Our team can also build your website on HubSpot, providing you with an aesthetic, fully functional and deliverable site. By working with us at Nexa, we can ensure that your integrations are running smoothly and as per your customised needs. We also host workshops for teams who are new to HubSpot so that your business will be well-adapted for optimal business operations.
This CRM system also provides you with the benefits of having sales and marketing aligned with inbound marketing. Having HubSpot's intuitive, responsive and insightful software working for your business will improve productivity and business relations, both of which work towards increasing your returns.
At Nexa, we work with each client to determine what their business is all about and which services will be best suited to them. We'll present and impenitent these solutions for you, which will include a selection of HubSpot integration to help your business run as seamlessly as possible. By working with us, we can take care of all the nitty-gritty technical processes, giving you peace of mind and a system that is ready to go. Once you're up and running, we'll be there in the wings to offer you support if need be.
Enjoy integrated operations that are optimal for your business, your audience and search engines. By utilising the power that this technology presents you with, your business can grow from strength to strength. Thrive in the digital space with HubSpot. We at Nexa help you get there.
Want to learn more about HubSpot? Not sure if HubSpot is right for your business? View the video below:
As a Diamond-tiered HubSpot Partner Agency, we have experience in the following services and offer these to clients globally:
Stay Plugged
Subscribe to our newsletter and stay updated on the latest design stories, new projects and case studies.