If your marketing efforts are closely aligned to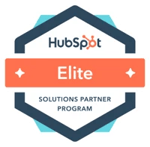 generating sales, it's vital that your organisation (no matter how big or small) has a powerful Customer Relationship Management (CRM) Software system to help you track not only the performance of your sales team but also to measure the effectiveness of your sales process, win rates, success factors and closing patterns.
HubSpot provides a highly powerful sales CRM that will help you better understand the sales processes within your business. In addition to the core CRM features, HubSpot provides optional Sales features for SMEs and large enterprises that streamlines efficiencies even further.
HubSpot CRM: Get to know the product better
HubSpot was launched in 2006 to help organisations implement and execute their inbound marketing strategies from a single place. Fast-forward to the present and HubSpot now offers a full stack of software that is made up of a Customer Relationship Management system, Sales Hub, Marketing Hub and a Content Management System.
HubSpot has gone on to become one of the most sought after and respected all in one CRM and Sales software and offers advanced tools to help any business with all their digital marketing and sales tactics. From Search Engine Optimisation, blogging and social media to lead generation campaigns, analytics and automated email marketing.
HubSpot's CRM has quickly developed into a award-winning platform that is used by over 70,000 businesses globally. This number has increased four-fold in just a short space of time and there are many reasons why your business should consider using the HubSpot CRM and advanced sales features:
HubSpot CRM can handle any volume of data
HubSpot CRM is fully customisable allowing you to edit any field specific to your needs
HubSpot CRM allows you to track every interaction and engagement with prospects
HubSpot CRM allows you to set reminders and add notes to help you keep track of your sales activities
HubSpot CRM tracks all deals in progress summarising the value of deals at each stage
HubSpot CRM seamlessly integrates with all other HubSpot products including marketing features such as email marketing
HubSpot CRM integrates with over 500 other software platforms
HubSpot CRM integrates with call tracking / recording software
HubSpot CRM integrates perfectly with Whatsapp
Aside from the above, HubSpot CRM connects easily with Google G-Suite and Microsoft's Office 365 email platforms so that each communication between your team and a prospect is recorded instantly.
Looking for a quick product overview? Nexa's CEO and MD, spoke about the HubSpot CRM on their weekly Digital Growth Show in June 2020:
Here's a short video that highlights some of these key features:
At Nexa, we've implemented and assisted hundreds of businesses (SMEs through to Enterprise clients) that wanted to not only implement a new CRM for their business but also enhance and optimise their sales processes.
Nexa's CRM service offering includes the following:
CRM Setup and Customisation
CRM Training
Sales Enablement Training
Proposal optimisation and tracking software installation
Want to learn more about HubSpot CRM and Sales? Not sure if HubSpot is right for your business? View the video below:
Should my Company Use HubSpot?
The business world is filled with many Customer Relationship Management solutions however, many of these platforms do not offer a CRM solution that is easily customisable, easy to use and scalable. HubSpot has closed this gap and has developed a full CRM solution that can be integrated with your marketing and sales platforms, ensuring you receive the best return on your investment.
So, should your business invest in HubSpot? Let's take a look at some of the benefits that come with this advanced software.
5 Benefits of HubSpot for your Business
1. Full Service CRM, Marketing and Sales Platform
HubSpot aligns all your marketing, sales and customer service efforts in a single place. Through this platform your marketing team is able to create and optimise your marketing content, nurture leads, monitor lead interaction, analyse the buyers journey, segment audiences and report on how your marketing campaigns are progressing.
HubSpot not only offers a place to implement your marketing tactics, it tracks your efforts, giving your sales team deeper insight into each individual prospect and what they are looking for from your business. All of this results in more sales, greater customer satisfaction and of course, business growth.
2. Inbound Marketing Software
Inbound Marketing is one of the most effective marketing strategies available today. This marketing tactic draws in prospective clients through online content marketing, personalised email marketing, social media campaigns and digital marketing in general.
HubSpot offers advanced inbound marketing services and is designed for every stage of the buyer's journey. The software gives you the opportunity to personalise content and target your campaigns to each individual user based on where they are at in the buying cycle. This strategy ensures that your prospective clients get the right marketing message, at the right time, through the right platform.
3. HubSpot Integration
HubSpot easily integrates with all your other platforms such as WordPress or Magento, so you do not have to worry about late nights swopping over information or changing the way you do things completely. HubSpot is uniquely designed for ease of use and easily works alongside a variety of platforms, helping you nurture leads and gain clients - while maintaining your current website at the same time.
4. Marketing and Sales Alignment
Sales and marketing alignment is created with HubSpot as the CRM directs sales and marketing efforts toward the same prospects and with the same goals in mind. Essentially, the platform creates a comprehensive buyer persona and buyer journey that is designed to better target customers, increase acquisition and create targeted campaigns that are all symbiotic in their messaging.
5. Monitor the Buyers Journey
Through HubSpot you are able to view and analyse every stage of the buyer's journey and understand where each contact is within their buying journey. This means that your marketing and sales team can see when a contact first became a lead, what website pages they visited and when they converted into a customer. This is a hugely valuable feature as it allows you greater insight into when an individual becomes a marketing qualified lead or sales qualified lead.
By being able to view the life cycles of your leads, you will be able to assess where they are in their buyers journey, and you will know when your sales team should approach - and what they should approach them about.
In Summary

If your business wants to streamline processes, save time and money, and help your marketing, sales, and service teams reach their targets and objectives effectively, then HubSpot is the software for you.



As a Diamond-tiered HubSpot Partner Agency, we have experience in the following services and offer these to clients globally:
Stay Plugged
Subscribe to our newsletter and stay updated on the latest design stories, new projects and case studies.