HubSpot is widely regarded as one of the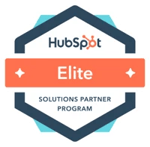 most powerful marketing automation platforms.
Today, HubSpot powers the marketing engines for some of the most recognisable companies in the world, helping them to effectively scale their marketing efforts by integrating all aspects of their online presence in a centralised location.
If you're interested in understanding more about the HubSpot platform and what it can do for your business, this page will help.
This video will help you to gain a better understanding of how HubSpot has been designed to drive your company's growth.
From Strangers to Clients - One Platform that does it all
The great thing about HubSpot, is that unless you choose to do so, the platform can literally handle all aspects of your company's marketing needs. From Website CMS, through to landing pages, email marketing and measuring the ROI of campaigns, HubSpot does it all.
Used by over 70,000 customers globally, HubSpot is a true marketing powerhouse providing both SMEs and large enterprise businesses with easy to use tools and features that accelerate your marketing. Predominantly a B2B platform, today, HubSpot also integrates with most E-Commerce platforms with native integrations with the likes of Shopify allowing online retailers to market their business like powerhouses such as Amazon using data as the driving force for all actions.
HubSpot's features fit seamlessly into your marketing and sales processes.
How HubSpot works for marketing, lead generation and sales.
HubSpot is a marketing and sales software that assists businesses in attracting, delighting and nurturing leads resulting in more sales and greater customer retention. The world of online marketing is full of a variety of inbound marketing software, all of which promise to help your company gain and convert leads. However, many of these platforms are unable to provide a fully rounded service, that is: a service that integrates your marketing, sales and customer service efforts seamlessly. HubSpot does all of this and more, by offering a scalable and easy to customise user experience that ensures all your marketing efforts can be implemented and tracked in a single place.
The Benefit of HubSpot for your Business:
HubSpot provides marketers with a platform that stores all your marketing efforts in a single place. Now, marketers no longer have to jump between different platforms to market to customers and potential customers - everything, from social media marketing to website content can be done through the platform.
The system also allows marketers to fully optimise content, monitor leads, gain lead data, and nurture leads through email automation and lead segmentation. As the system allows you to track and measure all your marketing endeavors, your sales team is able to gain insight into leads and use this insight to increase sales and direct the customer through the sales pipeline.
The software also creates an in-depth buyer journey and buyer persona that better targets customers, increases acquisition and creates targeted ads, emailers and campaigns that are all symbiotic.
Essentially, if you want to make more sales and gain more insight into your target audience - then HubSpot is the software you have been searching for.
Ready to learn more about HubSpot? Book a product demo today
While videos are helpful and will give you an idea of the power of HubSpot, nothing beats seeing a live demonstration of the product itself! If you'd like a free demonstration of the HubSpot Marketing Platform, simply click on the 'Request a Quotation' button at the top of this page and we'll be in touch with you soon.

As a Diamond-tiered HubSpot Partner Agency, we have experience in the following services and offer these to clients globally:
Stay Plugged
Subscribe to our newsletter and stay updated on the latest design stories, new projects and case studies.