Nexa is proud to be a Diamond-tiered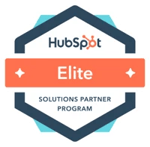 HubSpot Partner and this places us in the top 2% of HubSpot Partners globally.
Our journey with HubSpot began in 2014, when as a customer of HubSpot we quickly experienced the impact that the platform was having on our business. From increased website traffic and performance though to higher conversions and fast sales growth, we wanted to see how we could help other businesses to experience the same.
Shortly after, we became a HubSpot Partner, starting as an un-tiered partner but slowly working our way through the certification process, implementing HubSpot for over 100.
What is HubSpot?
Award-Winning HubSpot Agency

For our clients that use the HubSpot platform, the Marketing Hub, CRM, Sales Hub and Service Hub have combined to become the glue that brings the operations of a business together. This in turn creates a level of internal alignment where sales, marketing and customer service departments align to help companies grow better. This integrated approach not only creates alignment but helps to reduce departmental friction, which in turn produces vastly improved customer experience. The overall impact of this is simple. Customers are happier, they spend more and the refer more clients your way.
This integrated approach has been recognised by our industry peers and for three consecutive years, Nexa were awarded the Best Integrated Campaign award at the MENA Search Awards for our work with Arbor School, Seawings and the College of Fashion & Design. It's important to point out that these are the only three years that we've submitted for the award.
It's fair to say that we're proud of our success, but we're hungry to achieve more and to support more businesses that are striving to grow better. Here are some more client testimonials (Source: https://www.hubspot.com/agencies/nexa)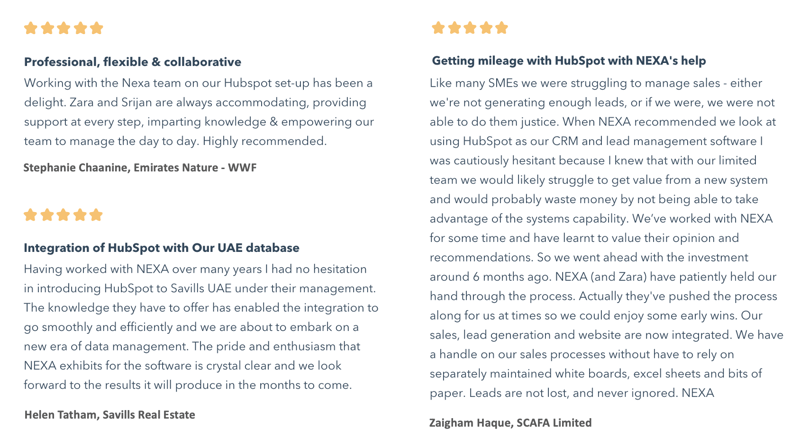 We're also proud to have been featured by HubSpot in an Agency Spotlight video. Here's our Managing Director, Andrew Thomas being interviewed at the HubSpot Head Office in Boston:
As a Diamond-tiered HubSpot Partner Agency, we have experience in the following services and offer these to clients globally:
Stay Plugged
Subscribe to our newsletter and stay updated on the latest design stories, new projects and case studies.