Nexa is proud to be a Diamond-tiered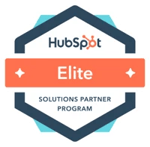 HubSpot Partner and this places us in the top 2% of HubSpot Partners globally.
Our journey with HubSpot began in 2014, when as a customer of HubSpot we quickly experienced the impact that the platform was having on our business. From increased website traffic and performance though to higher conversions and fast sales growth, we wanted to see how we could help other businesses to experience the same.
Shortly after, we became a HubSpot Partner, starting as an un-tiered partner but slowly working our way through the certification process, implementing HubSpot for over 100 clients and today managing a sizeable percentage of HubSpot's revenue in the MENA region.
"Nexa was HubSpot's first partner in the Gulf region and joined the partner program over 5 years ago. They have been integral in educating the region about inbound marketing and sales and have applied their expertise to strategic clients in the technology, real estate, and education space. One of the key differentiators with Nexa is their proven capabilities to customize their services to find the right solution and solve for the customer's needs."
Jeetu Mahtani, Senior VP & Managing Director, International - HubSpot