Social media plays an important role in the marketing of events such as conferences, exhibitions, concerts, product launches and all sorts of other activations. Social media platforms are the perfect place to market events since people are online to find out about what's happening and going to happen in real-time.
Social media actively supports the pre-event awareness stage, the activities that occur during the event and post-event marketing activities. A well-planned and delivered social media strategy for events can often be the difference between a moderately successful event and one that reaches and engages attendees and a wider audience for the future as well.
These are some of the ways Nexa helps clients to market their events on social media:
Pre-event marketing:
With pre-event marketing, you can create a desire in people to attend. People often have a fear of missing out, so marketers can drum up anticipation for the event.
Create engaging ways via social media to invite people, from story polls and RSVPs via direct message through gamification. Story content is a great way to remind people about the event in the lead-up.
Sharing snippets of the event in a way that builds up the excitement for the event. This does not need to be about the event solely, but it can relate to lifestyle and related topics, such as outfit planning or showing how attending this event will add to the lives of the attendees.
Social media marketing during the event:
Covering the event is important as you can bet other people will be sharing their experiences, not to mention it makes for great content. Sharing in the event with others and interacting with people at the event as it is occurring is a fun and necessary step.
Getting influencers, media and content creators at your event can help increase the exposure of your event as it occurs, which is especially useful if the event your hosting is a recurring one.
Having a plan in place will help to curate the posts relating to your event, such as having a specific tag which you tell the attendees about and having a hashtag which is used.
Post-event coverage:
Sharing a highlight reel allows people to reminisce about the best parts of the event. For people who weren't able to attend, they can look at this to get a glimpse of the kinds of events you host.
Virtual Events
Virtual events are here to stay. By broadcasting these on social media, you can increase your attendance and reach in a way that is suitable to your audience. Some creative ways we help our clients to host such events include:
Entertainment: Translate all of the joy on offer through quirky social media posts in your lives and gifs.
Demo's: There's a reason the phrase 'show, don't tell' is so popular. Showcasing your events on social media or extending the experience to these spaces is the way to go.
Live: Go live! This gives your viewers direct and exclusive access to the event, which is as close as it gets to attending it in real life.
Stage it: Another famous phrase, 'fake it til you make it' can be applied, by hosting a spectacularly staged fully streamed live event, where you save costs on catering and space for stage design and advanced editing.
Put on a show: Hosting series online and sharing these online is another option, whether these are for significant events or smaller scale interviews.
Events remain highly successful, whichever format you choose. Don't leave yours to chance - team up with us at Nexa to elevate yours.
IS YOUR COMPANY READY TO GROW IN 2023?
Social Media E-Guide
The way business is conducted has drastically changed since the global pandemic.
Social and digital marketing is now at the forefront of marketing activity as more and more businesses look to these channels to generate new business opportunities foregoing strategies like brand awareness and instead favouring fast, lead generation or sales activities.
With this in mind, Andrew Thomas and Ravi Vyas have crafted Nexa's latest eBook - Social Media in 2023. By reading this book, you will learn:
The latest social media strategies and trends of 2023.

How to optimize social media for business growth

How to overcome a recession using social media

How to optimize your social media campaigns to generate more leads

The importance of social media influencers

The latest social media platforms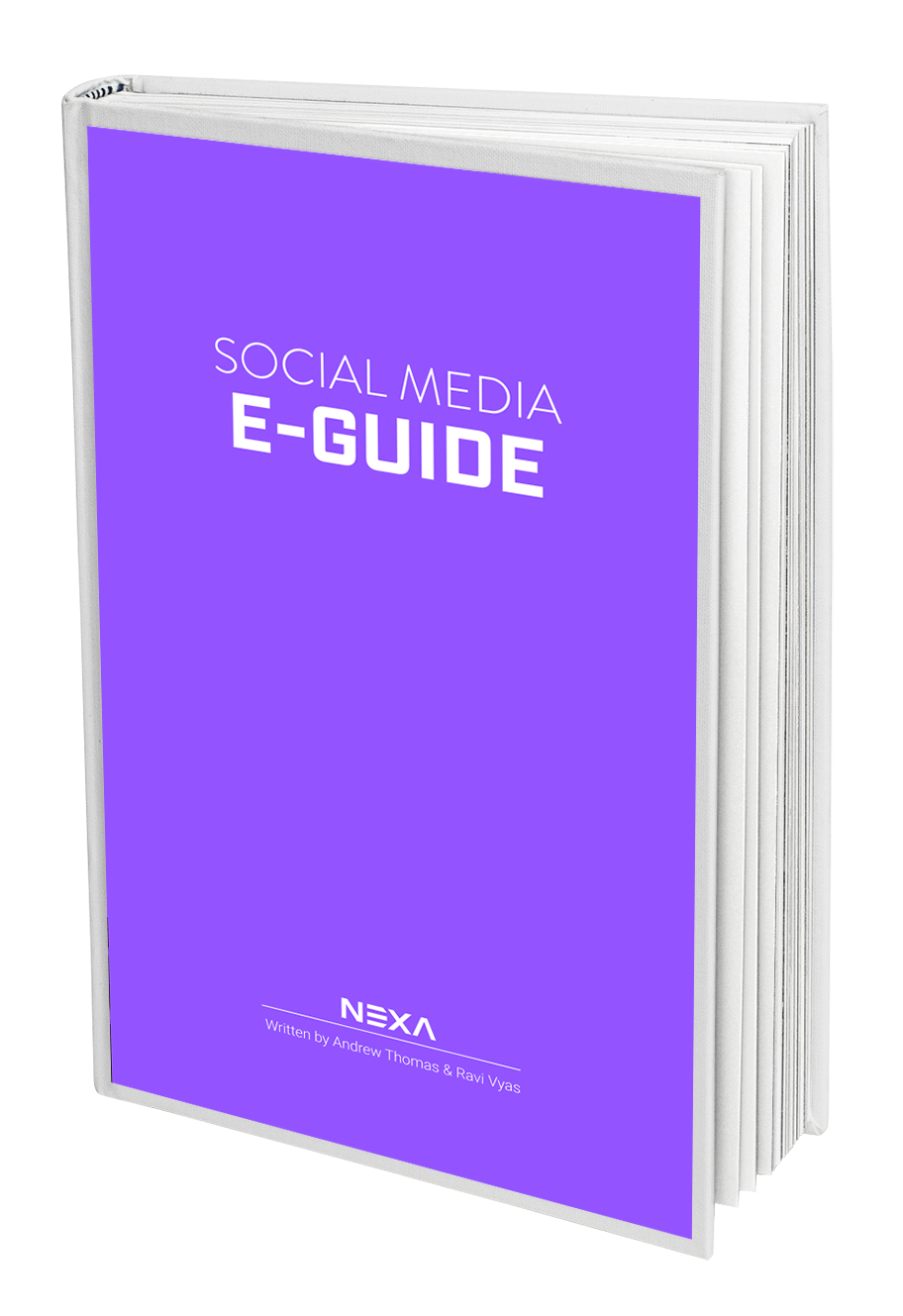 Stay Plugged
Subscribe to our newsletter and stay updated on the latest design stories, new projects and case studies.