CREATING & PUBLISHING QUALITY WEBSITE CONTENT
Our website content creation process takes SEO into full consideration:
The goal of Search Engine Optimisation (SEO) is for a business to rank higher than their competitors on search engine results, because outranking your competitors has enormous value.
If your page ranks higher than your competitors and other businesses in your industry, you will receive more leads/conversions, and you will build a tangible value to your business.
So, how do you rise up the ranks in the search engine results? There are many processes associated with SEO, with one of the most important being SEO Content creation.
At Nexa, our team of copywriters have extensive experience when creating content for new websites and follow a strict process based on search engine data analytics and research in order to create content that will significantly improve your website's chances of ranking well.
What is SEO Content Creation?
Your website content is critical for SEO and is a valuable tool for both gaining authority with the search engines and helping your business gain the trust of website visitors.
When it comes to creating SEO friendly content, you need to make sure that every bit of content you put on your website is of the highest quality. It is also important that your content is helpful and has the ability to add value to the readers life in one way or another.
If your content is not helpful or engaging and if it doesn't answer the questions users are looking to get answered, they will quickly drop off your site and move to your competitors. Google also ranks sites based on how much times users spend on your website, so you need to ensure your content keeps them on the page for longer - helping you rise further up the Google ranks.
Website Content to Help you Rank in the Search Engines
The kind of content that works well for SEO purposes ranges from short form to long form, and comes in a variety of forms. It comes down to what will work best for your business and your target audience.
SEO Content Creation includes:
Blogs
Thought Leadership Articles
How-to Guides
E-books / E-guides
Tutorials
Infographics and optimised visual content including videos and images
In order to optimise this kind of content for the search engines, certain keywords and phrases need to be taken into account and inserted naturally within your content. However, these words should never be stuffed in your website as Google and other search engines will quickly pick up on this and penalise your site. This is why it is important to work with experienced SEO copywriters who will make sure that your site is fully optimised to the search engine best practices.
Contrary to popular belief, keywords are not the most important part of SEO content creation. Delivering consistent and quality content is vital to keeping your website healthy and visible. By creating consistent content you give your website visitors the information the want and quickly establish yourself as an industry leader - which in turn leads to increased sales and customer retention.
What we can do for you
The average customer will always turn to a search engine such as Google whenever they have an immediate requirement for a product or service or are in the process of researching their next supplier. It's therefore important for your business to be visible at the very moment a potential customer is searching for a business such as yours.
Now, ask yourself, do you want your website to be optimised for search engines? Or do you want to own the searches?
If you are looking to implement SEO for your business, and you are looking to own the search results, Nexa is here to help.
IS YOUR COMPANY SET TO SURVIVE IN 2021?
Business Survival in 2021
IN THE AGE OF COVID-19, SURVIVAL WILL BE THE FOUNDATION FOR FUTURE GROWTH
It's time to take the next steps for your business.
Great strides have been made since the dark days 2020 and with the global vaccination drive, businesses are starting to breathe again.
Consumers have already shifted to a new definition of "normal": habits have changed, buying decisions have been altered, and the whole consumer journey has been turned on its head. How can businesses adapt and cope with this "new" version of the world?
How can innovation help companies to achieve sustainable growth? What is the role of technology in this shift?
Our new book: Business Revival in 2021: Healing from COVID-19 aims to not only help businesses that need support but to also provide tips, tactics and recommendations to help businesses to identify and nurture new opportunities.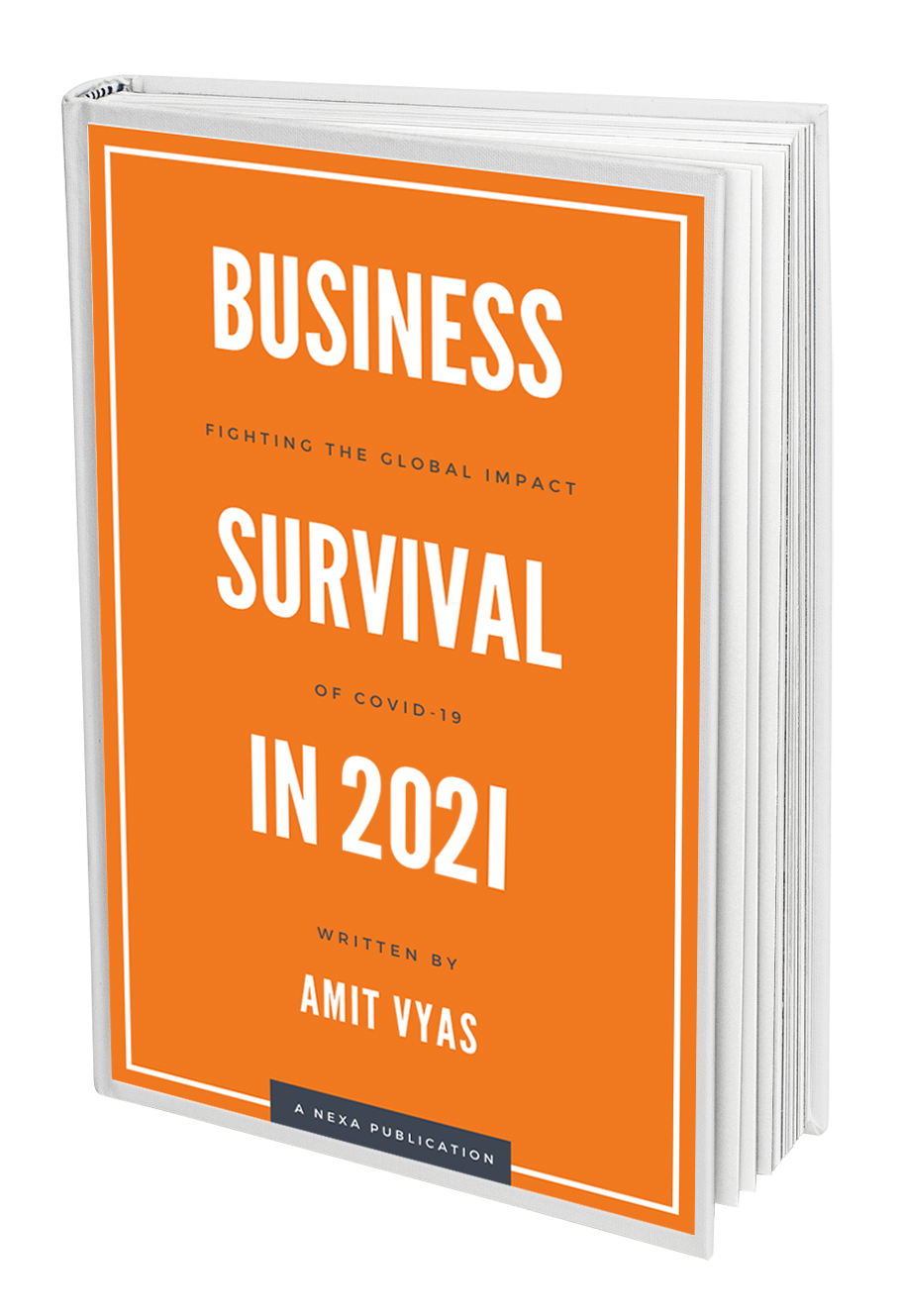 WE'D LOVE TO SPEAK TO YOU
Get in touch
Complete the form below and one of our senior team will contact you personally
Stay Plugged
Subscribe to our newsletter and stay updated on the latest design stories, new projects and case studies.