While public Metaverse platforms such as The Sandbox and Decentraland are appealing for many brands, they also present challenges both from a technical and user perspective. In essence, these challenges mean that these public metaverses will not provide the best environment for every brand.
In this scenario, Nexa recommends the utilisation of 'Private Metaverses', where a brand can showcase products or services but restrict access to a select few. We'll explain the benefits of this approach below.
Nexa is helping multiple brands bring their virtual visions to life by purchasing land and developing on these in public metaverses such as The Sandbox and Decentraland. We also help to secure these purchases using hardware technology that drastically limits the risk of being hacked.
The Argument for Private Metaverses for Brands
It's easy to forget that within the Metaverse 'space', there are more commercial metaverses than just Decentraland or The Sandbox. While these public metaverses receive both large volumes of users as well as much of the media attention within the Metaverse, there are a number of private metaverses that are providing incredible brand experiences for businesses that want to (a) engage a specific, restricted audience; and (b) create a fully customised brand showcase that is not limited by platform restrictions as is commonly the case with public metaverses.
For example, businesses that want to create more personalised or personable experiences require a more controlled environment to promote their brand. This would allow them to invite guests to their Metaverse, providing a branded environment that can provide prospects with one-one interactions and engagement. Private Metaverses will also allow Web 2.0 tools such as documents, videos and other media to be available to your new Web3 audience.
Use cases for Private Metaverses:
Product Launches or Product Demos
Showrooms (multiple products / feature options)
Partner Onboarding
Employee Inductions / Onboarding / Training
Galleries / Links to eCommerce
If you're interested in learning more about these opportunities or what your brand could look like in the Metaverse, reach out to our team.
Metaverse and Web3 White Paper
Free White Paper: Introduction to Web3 and the Metaverse
There's a real buzz about Web 3.0 and the Metaverse right now...
But where do you start? What are the key aspects of Web 3.0 and the Metaverse that you need to be aware of? More importantly, where are the opportunities for you and your business?
The purpose of this White Paper is to provide a clear and concise understanding of the fundamental aspects of Web 3.0 using laymans terms and real life examples to help illustrate the opportunities that exist now. In the digital world, first-mover advantage is a very real concept and those who embrace this will stand to benefit faster than others.
Learn how:
A decentralised world challenges everything we take for granted today

The Blockchain supports commercial Web3.0 opportunities

NFTs really can provide value to businesses who care about their communities

DAOs have the potential of impacting every business now and in the future
Download the White Paper and start your Web3 journey today.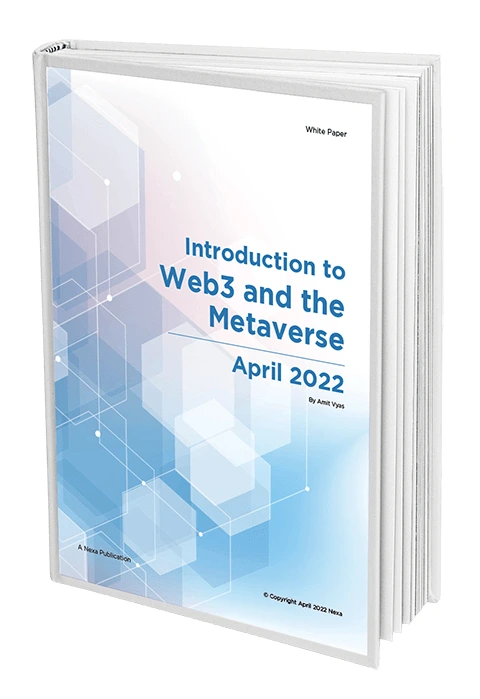 Stay Plugged
Subscribe to our newsletter and stay updated on the latest design stories, new projects and case studies.