The Metaverse allows those within it to engage with others using apps and services. Individuals typically create virtual versions of themselves, known as 'avatars' and use this virtual self to navigate around a metaverse.
While this virtual universe is familiar to gamers (the likes of Roblox and Fortnite are based around their versions of a metaverse), there are multiple businesses currently exploring alternative metaverses for a wide range of applications.
Nexa is helping multiple brands bring their virtual visions to life using public metaverses such as The Sandbox, Decentraland. We're also working with brands looking for a more exclusive audience by creating virtual environments within private metaverses that limit access.
Metaverse Opportunities for Businesses
The company Meta (formerly known as Facebook) is developing their own metaverse, using its Oculus Quest 2 headsets that enable immersive experiences for those who wear the device. Other notable metaverses include The Sandbox and Decentraland and herein lies the potential challenges when it comes to the metaverse in its current state. One of the key aspects of Web3 is the drive for decentralisation however, with multiple metaverses being created and run by different organisations, we're currently in a state of flux where the lack of interoperability means that current metaverse users are having to choose between different platforms rather than navigate their way through multiple metaverses. Meta, for example, has earmarked investment of $10billion into the Metaverse and has launched a number of centralised applications based on their Horizon product suite that can and potentially will only work using Meta controlled devices.
There are also a number of other metaverses that have either been created or are in the process of being created that serve specific purposes, which further adds the complexity of interoperability. For example, the creators of the FLUF collection of NFTs have recently launched additional NFTs that have been earmarked for a role in their version of the metaverse. Headoffice.space is another metaverse, but one that focuses on corporates as a target audience. With each additional metaverse, the risk of dilution also increases and therefore, the need for user growth also increases. While this may not be an issue (the current number of metaverse users is estimated to be in the millions rather than billions), the lack of a single, unified metaverse may present challenges to growth.
History has taught us that only a few metaverses may survive (think of how many core social media platforms remain today) but in a truly decentralised environment that includes interoperability and the ability to seamlessly navigate through different metaverses, the chances of more metaverses surviving increases exponentially.
While we've addressed certain challenges with the metaverse today, there are undoubtedly opportunities that should be explored and we'll highlight a few of these below:
Brand Visibility and Activations
A number of brands have already embraced aspects of the metaverse, launching activations designed to engage audiences that are spending time in the virtual world. Brands such as Disney, Adidas, Gucci, Samsung, Coca-cola, Sotheby's and Hyundai
have all experiment thus far with a range of activations including NFT drops, product launches and in the case of Sotheby's art sales direct from the company's presence in the Decentraland platform.


Land Purchasing and Investment
Easily relatable to real-life, the purchasing of 'land' on both The Sandbox and Decentraland metaverses has been a lucrative business for many early adopters. With primary land sales selling out fast, brands and investors have turned to the secondary market to make purchases. Prices in the secondary market have increased as much as 13x from initial launch prices with both celebrity purchasers such as Snoop Dogg and established corporations such as PwC, JP Morgan, HSBC and Samsung already investing heavily in virtual land.27 Once land is purchased, owners have the option of 'building' on the land - which may be a representation of themselves or their businesses in the metaverse or to perhaps rent out the land to others who require it for a specific project or activation. They can of course also do nothing in the anticipation of increased real-estate prices and make a profit on a future sale.


Revenue Opportunities
Some brands have created virtual versions of their businesses with the added option of selling virtual memorabilia to its audience. Club Amnesia, a famous nightlife brand originating from Ibiza, launched a 'nightclub' in Decentraland complete with rooms for different music genres as well as a store that sells different types of virtual clothing, headwear and other types of memorabilia (NFTs) that can be stored on digital wallets by those who make a purchase.


Virtual Showrooms & Product Launches
The COVID-19 pandemic and forced lockdowns around the globe showed that people are prepared to make purchasing decisions using digital tools and communication channels and there's a possibility that next generation tools to support digital sales can be developed in the metaverse. Using platforms such as The Sandbox, Decentraland and other more niche metaverse platforms, companies can either rent or purchase land and use the land to create immersive and interactive experiences for potential customers. Virtual showrooms can be used for either qualified lead generation or direct purchase by directing visitors to an online store.


Internal Communications and training
With remote working on the rise around the world, companies face challenges relating to employee onboarding, training, staff collaboration and general employee bonding. The metaverse provides the potential of filling this hole for companies and to date, some have used the metaverse to enable large scale employee onboarding and to provide training to employees by creating customised corporate environments, where employees can interact with others while engaging with Web2 collaboration tools such as videos, presentations and other documents.
Metaverse and Web3 White Paper
Free White Paper: Introduction to Web3 and the Metaverse
There's a real buzz about Web 3.0 and the Metaverse right now...
But where do you start? What are the key aspects of Web 3.0 and the Metaverse that you need to be aware of? More importantly, where are the opportunities for you and your business?
The purpose of this White Paper is to provide a clear and concise understanding of the fundamental aspects of Web 3.0 using laymans terms and real life examples to help illustrate the opportunities that exist now. In the digital world, first-mover advantage is a very real concept and those who embrace this will stand to benefit faster than others.
Learn how:
A decentralised world challenges everything we take for granted today

The Blockchain supports commercial Web3.0 opportunities

NFTs really can provide value to businesses who care about their communities

DAOs have the potential of impacting every business now and in the future
Download the White Paper and start your Web3 journey today.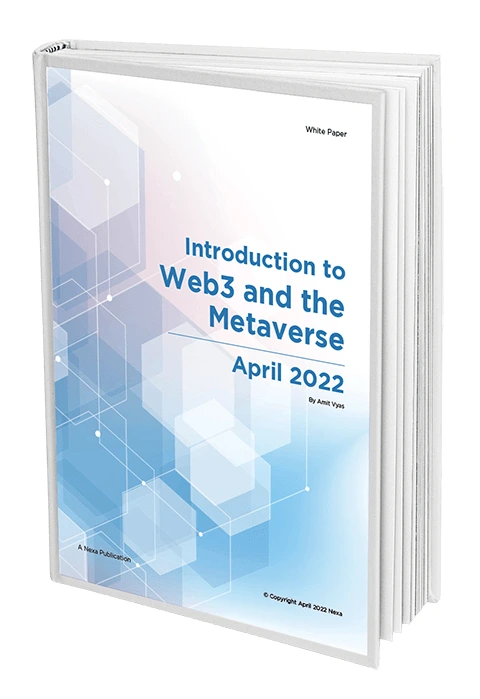 Stay Plugged
Subscribe to our newsletter and stay updated on the latest design stories, new projects and case studies.