For Businesses Only
At Nexa, we offer 1, 2 and 3-day social media corporate training and workshops. Our team of social media marketing experts will guide you to the path of online success by providing your teams with all the knowledge, insight and content they need to help drive your business forward through social platforms.
Social media is a vital part of modern-day marketing as these online platforms have given businesses more accessible to the consumer than ever before. These online communication platforms empower both businesses and the consumer by giving them a way to connect with each other and communicate with ease. And with a strong social media strategy in place, your business can connect with customers, increase brand awareness, and boost lead generation and sales efforts faster and more effectively than ever before.
With so many marketing, lead generation and sales opportunities available through social media, you need to ensure that you are taking full advantage of these platforms. With specialised social media training and workshops, your marketing and sales teams will understand the best social media techniques and practices to help your business and your brand thrive online.
Our local workshops are customised for specific industry requirements and are fully hands-on learning experiences. This means that at the end of your workshop, your team will be able to create and execute only the best social media strategies and campaigns.
An Overview of Social Media Training and Workshops for Businesses with Nexa
Irrespective of the type of business you have or industry you operate in, social media has the potential to influence the performance of your business positively. Our training sessions and workshops are designed to provide specific insights and also include a strategy development session before and after each workshop.
Training and Workshop Overview
Each training session and workshop is customised for your industry to ensure high-relevance.
Attendees will be highly involved with each workshop focusing on interaction and hands-on learning.
Before each workshop, a strategy meeting will be provided to understand the goals and objectives of the company.
Post-workshop follow-ups are optional but provide an opportunity for both the trainers and the company to understand (a) which staff members engaged more within the workshops and (b) to understand the effectiveness of the training.
Workshop Options:
Social Media for your Industry (1 or 2-day options)
Sales Lead Generation Workshop for Marketing and Sales Teams (1 day)
Digital Marketing for Senior Management (1 day)
Content and Inbound Marketing Masterclass (1 day)
Learn About Social Media Strategies that Deliver
Developing a strategy is one of the most important factors in a business's social media marketing. This provides the directive and outlines the plans going forward. Learn about how to formulate one that can provide your business with a template. By joining in on one of our workshops, you are equipping your team with the skills needed to take charge of your social media marketing. From a strategy perspective, you will learn all about the tools that can assist you, the platforms that will work for you, how to allocate your budget and the kind of content you need to develop.
Our workshops will guide you through the critical aspects of social media, from frequency to leads and building your online community. Effective social media can result in customer acquisition through reach, satisfaction through support and retention through loyalty. It is the trifecta of digital marketing.
During the workshop, you will also learn to set goals, establish audiences, select platforms, designing and creating content, publishing tips and finally, analytics and insights. With this, your business can create a winning social media strategy. Whether it is just one member of your team or many, we cover the bases in terms of various social media marketing roles, including:
Researching
Planning
Community management
Content creation
Advertising
Analysing
Social media matters and it is by no means a simple task. With that said, Nexa's training puts you in the front seat, learning from specialists at the top of their field. Let us show you the best ways to emphasise your unique selling point, get creative about your content and build your online community into a thriving hub.
IS YOUR COMPANY READY TO GROW IN 2022?
Social Media In 2022
The way business is conducted has drastically changed in 2022. The global pandemic has impacted all of us, and businesses are learning how to recover.
Social and digital marketing is now at the forefront of marketing activity as more and more businesses look to these channels to generate new business opportunities foregoing strategies like brand awareness and instead favouring fast, lead generation or sales activities.
With this in mind, Andrew Thomas and Ravi Vyas have crafted Nexa's latest eBook - Social Media in 2022. By reading this book, you will learn:
The latest social media strategies and trends of 2022.

How to optimize social media for business growth

How to overcome a recession using social media

How to optimize your social media campaigns to generate more leads

The importance of social media influencers

The latest social media platforms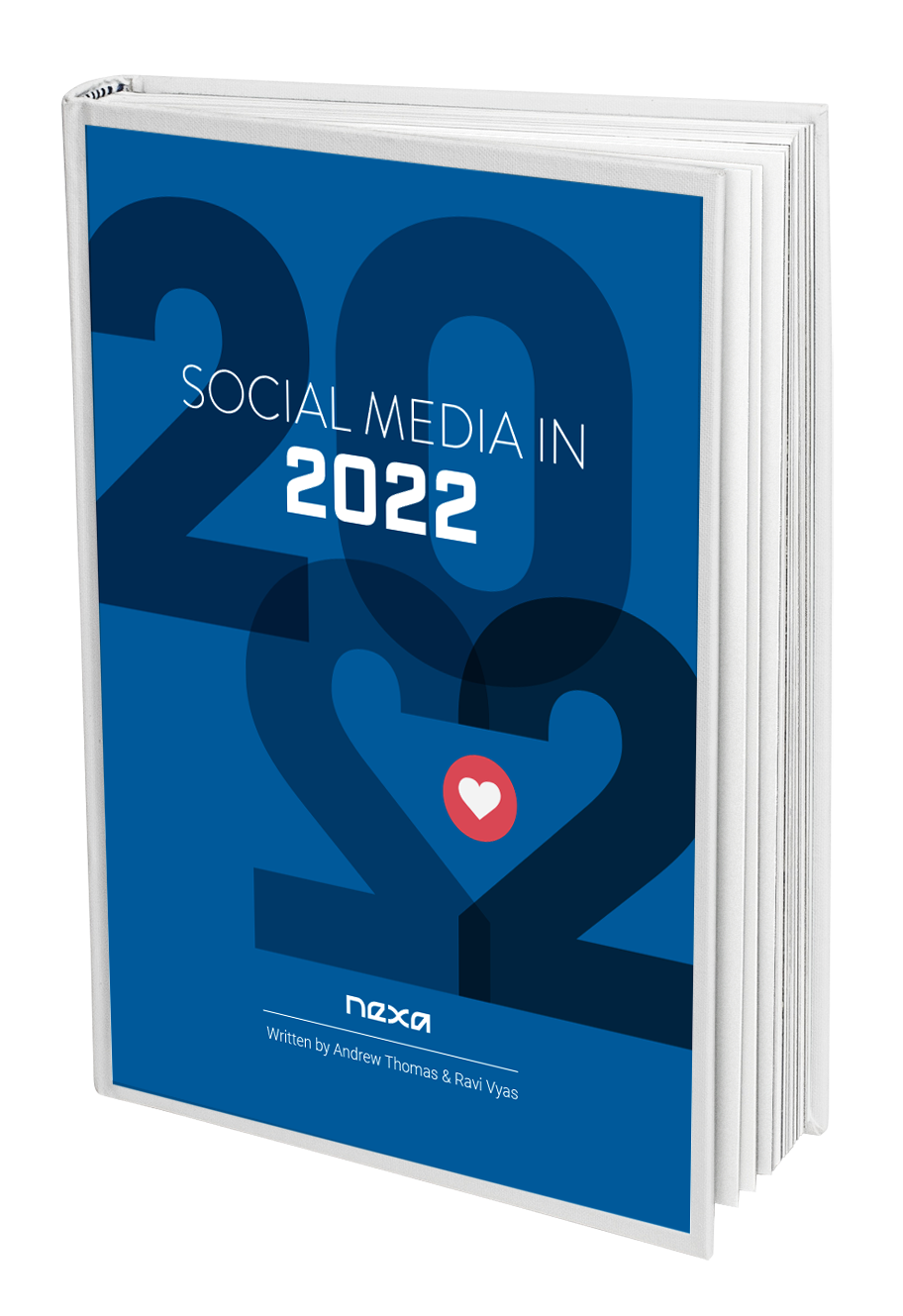 Stay Plugged
Subscribe to our newsletter and stay updated on the latest design stories, new projects and case studies.