Social media for businesses is no longer solely for customer service and brand visibility. While these aspects remain important, these platforms have evolved to become a business-friendly tool that generates both leads and even direct sales.
For many businesses, social media platforms such as Facebook, LinkedIn, YouTube and Twitter are used as sales lead generation platforms. After all, the extensive databases of users that are using these platforms combined with the advanced options available to businesses make it a great way to reach your target audience.
For retailers and e-commerce businesses, social media platforms such as Facebook, Instagram, Snapchat, LinkedIn and Pinterest are being used as direct drivers of footfall (or website traffic for e-commerce retailers) and sales revenue with the introduction of Facebook and Instagram Shopping.
The leads and revenue generated from social media activity are a tangible indication of the returns on your investment in social media. There are various ways to measure this, from leads to sales, as well as traffic, views, referrals and engagements.
While these results can be gratifying for a business, it must be noted that it takes considerable investment in terms of time and effort to be successful. A dedicated social media strategy is needed, which needs to work in conjunction with the overall marketing plan for a business. With this foundation, your social media activity will be directed towards generating leads and subsequent sales as well.
Leads gained via social media require both reach and conversion among your prospective customers. These figures need to be maximised and measured. Brands on social media find the highest success rates when they can attract and engage their ideal customer personas. Finding and engaging with them requires the exploration of topics, networks and keywords which match the audience.
Conversion refers to the capturing of contact details. This can be attained in the following ways:
Lead generation forms
Interactive posts and stories
Calls to action
Links to optimised landing pages designed for mobile
Referrals
Competitions
Discount codes and offers
Advertising
Shoppable posts are a recent development via major social networks that allow for direct purchases to be made on the app. This will improve the lead generation and revenue of businesses, provided they can conduct social selling effectively.
Leads can be generated directly on social media platforms, or these platforms can be used to direct people to other channels where leads are then captured. To entice someone to share their information with you, a business needs to present an offer of value in exchange. From that point on, those leads need to be nurtured on an ongoing basis.
This is why the content shared on social media plays a vital role. It requires the following:
Timeliness and consistency with responses which are best achieved with automation
Personalisation to add an intimate and more binding relationship with potential customers who seek direct communication
Optimisation to increase your reach organically
Incentives that are enticing enough for your audience and meet their expectations once delivered
Varied content, from diverse formats (including video) to a range of types of content and platforms used
Community building to create loyalty among converted leads and aspiration to become part of that for those who aren't there yet
Nexa has worked with several companies to create social media strategies that drive leads and revenue. From the concept to the creation, management and measurement of your social media, our team of specialists can help your business to grow.
IS YOUR COMPANY READY TO GROW IN 2022?
Social Media In 2022
The way business is conducted has drastically changed in 2022. The global pandemic has impacted all of us, and businesses are learning how to recover.
Social and digital marketing is now at the forefront of marketing activity as more and more businesses look to these channels to generate new business opportunities foregoing strategies like brand awareness and instead favouring fast, lead generation or sales activities.
With this in mind, Andrew Thomas and Ravi Vyas have crafted Nexa's latest eBook - Social Media in 2022. By reading this book, you will learn:
The latest social media strategies and trends of 2022.

How to optimize social media for business growth

How to overcome a recession using social media

How to optimize your social media campaigns to generate more leads

The importance of social media influencers

The latest social media platforms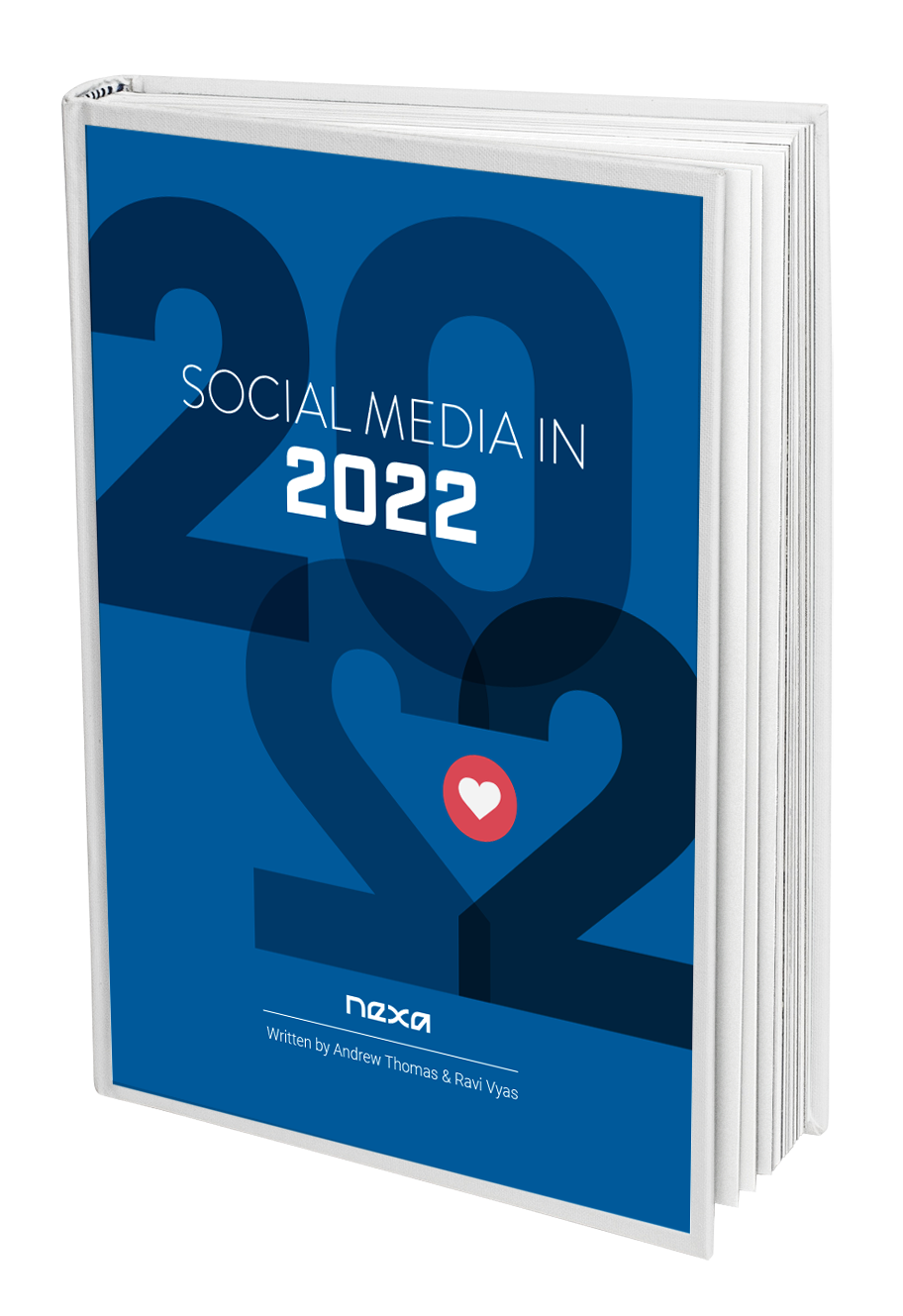 Stay Plugged
Subscribe to our newsletter and stay updated on the latest design stories, new projects and case studies.