It's fair to say the the early NFTs were certainly focused on the ownership aspects of digital assets but combined with other technology, NFTs are quickly becoming a validation token (or ticket) for access into communities of like-minded individuals who all have one thing in common - ownership of a specific type or part of a collection of NFTs.
Using platforms such as Discord, NFT holders can access a collection's dedicated channel and communicate with other 'members' after validating their NFT ownership. Once validated, your members can have access to different channels within your server and therefore have the ability to engage with other members using a variety of media.
But how do you manage the communication to ensure that the ideologies of your brand remain true?
Telegram and Discord Community Management
In the Web3 era, Telegram, Discord and Twitter are fast becoming the dominant platforms in this space and large communities are forming within them. With what feels like a backlash against the likes of Facebook, Discord in particular is seen as the most flexible home for Web3 and specifically NFT communities ,where additional features can be seamlessly integrated into each 'server' or community to enhance experience. Some of these features include specific roles for each member, automated bots that can keep an eye and flag unruly behavior and the ability to verify membership to a group if NFT ownership for example, is a prerequisite requirement for access to a Discord server.
Many Discord servers contain a combination of both verified and unverified members and it therefore becomes a challenge to manage, especially once a large volume of active members start to communicate and collaborate. Automated bots can solve some of the issues that may arise, but manual involvement is also required and encouraged. Typically, a minimum of 2 or 3 admins are recommended.
Nexa can help you to not only create your Discord server or Telegram channel but also provide the admins to help you manage the needs of your community. From ensuring conversations remain professional through to support requests, our team can help to keep your community happy and help to grow it further, Speak to us today if you'd like more information on our services.
Metaverse and Web3 White Paper
Free White Paper: Introduction to Web3 and the Metaverse
There's a real buzz about Web 3.0 and the Metaverse right now...
But where do you start? What are the key aspects of Web 3.0 and the Metaverse that you need to be aware of? More importantly, where are the opportunities for you and your business?
The purpose of this White Paper is to provide a clear and concise understanding of the fundamental aspects of Web 3.0 using laymans terms and real life examples to help illustrate the opportunities that exist now. In the digital world, first-mover advantage is a very real concept and those who embrace this will stand to benefit faster than others.
Learn how:
A decentralised world challenges everything we take for granted today

The Blockchain supports commercial Web3.0 opportunities

NFTs really can provide value to businesses who care about their communities

DAOs have the potential of impacting every business now and in the future
Download the White Paper and start your Web3 journey today.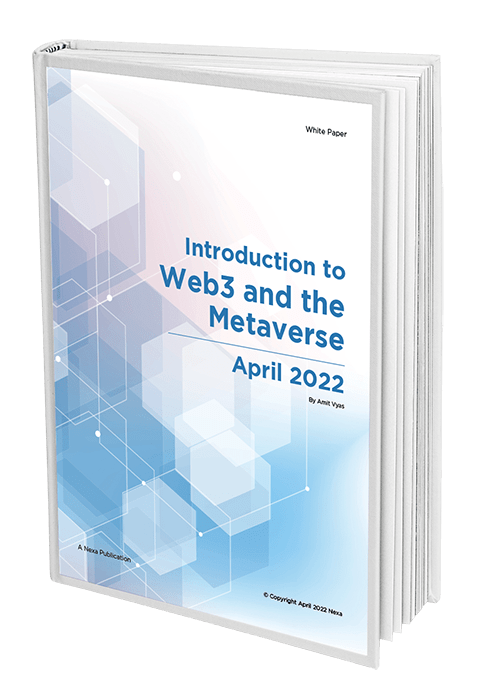 Stay Plugged
Subscribe to our newsletter and stay updated on the latest design stories, new projects and case studies.