One of the key benefits for a brand's presence on social media is the ability to learn about your customer's perceptions and to engage in any conversations that form part of their world. Remember, whether you have a presence on social media or not, it's likely that your customers are already talking about you, so having the ability to respond and be an active part of it has enormous advantages.
Our social media listening, engagement and reporting services include 24/7 monitoring of publicly available conversations on the web and social media platforms including Facebook, Instagram, Twitter and LinkedIn. Our team has been trained to engage with audiences using optimal and appropriate tonality and use enterprise-level tools to provide extensive reporting for each client and activation.
Listening
While interacting with your audiences on social media is of the utmost importance, passively watching and listening is too. This refers to the analysis of the current landscape and sentiments that surround your business in online spaces. It provides the content to your marketing as it relays the information that matters to your customers. Tapping into this information and being able to draw insights from it can significantly improve your marketing strategies. Social media listening should be performed on an ongoing basis, as it can provide marketers with crucial information regarding:
Pain Points
Leads
Competitors
Opportunities
Influencers
Thoughts
By harnessing the above, you can transform your marketing to suit the content and better understand your online community. You will build stronger relationships by understanding your audiences and their world better. It is the kind of information that is crucial, and at your fingertips, you need to collect and sort the data accordingly.
Engagement
Engagement is gold in the currency of digital marketing. It refers to two-way communication between a brand and its customers. Engagement can take many forms, all of which have their role in building an online community. Beyond catering to your audience, engagement is also vital for your brand being picked up by algorithms and therefore having sufficient reach online. Marketers are required to build meaningful relationships with their followers on social media in order to meet the needs of their target audience and boost the brand's perception. It is required across all of the platforms used by a business and includes the following fundamental factors:
Being active: Positing content and being part of the mix.
Being responsive: Responding personally and as quickly as possible.
Be consistent: This fosters reliability among audiences and network algorithms.
Provide value: The content you create needs to speak to your customer.
Encourage sharing: User-generated content and reviews are valuable and should be openly praised.
Engage in direct messaging: This is a preferred method of communication among many social media shoppers.
Reporting
Reporting on the performance of social media is one of the most important steps for a marketer, as does much more than showing which KPI goals were met. With robust reporting tools available, we at Nexa work on creating detailed and insightful reports that showcase the successes of a campaign, as well as the windows of opportunity for future campaigns. It is easy to get lost in the many figures available when it comes to social media, so knowing which ones matter most to your brand, such as those which accurately reflect your brand's online engagement, are a highly beneficial resource for a business to have. These reports are based on precisely calculated values and are necessary in order to adapt in the way that is in the best interest of your brand.
IS YOUR COMPANY READY TO GROW IN 2022?
Social Media In 2022
The way business is conducted has drastically changed in 2022. The global pandemic has impacted all of us, and businesses are learning how to recover.
Social and digital marketing is now at the forefront of marketing activity as more and more businesses look to these channels to generate new business opportunities foregoing strategies like brand awareness and instead favouring fast, lead generation or sales activities.
With this in mind, Andrew Thomas and Ravi Vyas have crafted Nexa's latest eBook - Social Media in 2022. By reading this book, you will learn:
The latest social media strategies and trends of 2022.

How to optimize social media for business growth

How to overcome a recession using social media

How to optimize your social media campaigns to generate more leads

The importance of social media influencers

The latest social media platforms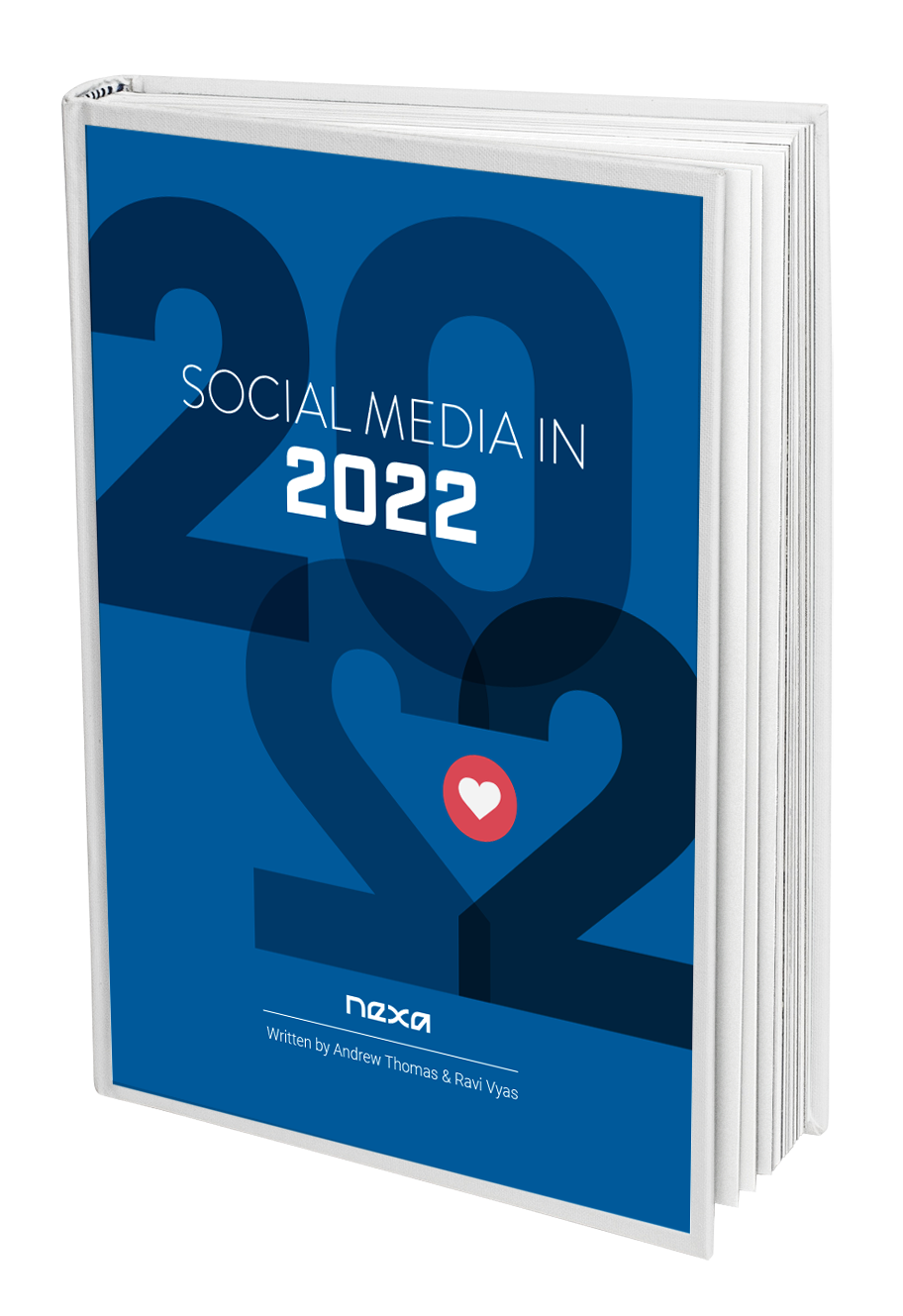 Stay Plugged
Subscribe to our newsletter and stay updated on the latest design stories, new projects and case studies.