Non-Fungible Tokens or NFTs as they are more commonly known present unique opportunities for individuals and businesses alike to create new communities using decentralised technology. Initially seen as a way for artists to digitise and protect their creations, in just a short space of time, the use and utility of NFTs has increased rapidly and today they are used to validate community memberships, for events (entrance tickets) as well as investments into decentralised autonomous organisations (DAOs). With each NFT purchase and transaction securely stored on the blockchain, tokens are seen as an legitimate asset.
Whichever way you look at it, NFTs present incredible commercial opportunities and at Nexa we're helping individuals and brands bring their ideas to life by providing the technological know-how and strategic support to increase the chances of project success.
Launching NFT Projects: Strategy and Implementation Support
As mentioned above, Nexa is a huge advocate of Web3 technology and we're particularly excited about the opportunities that non-fungible tokens (NFT) provide. But what are NFTs and what kind of opportunities exist?
What is an NFT?
Let's tackle the 'non-fungible' part first. Non-fungible, basically means 'unique'. Something that cannot be replaced identically by something else. For example, a $100 bill can easily be traded for say, another $100 bill (which makes it fungible). The Mona Lisa however would be classed as non-fungible and if you traded the original Mona Lisa, you couldn't do so for another original Mona Lisa.
The tokenisation aspect of NFTs in essence makes these assets easier to buy, sell or trade using a stamp of authenticity linked to ownership. Most NFTs are on the Ethereum blockchain allowing each transaction to be publicly verified to enable efficient proof of ownership.
What is the point of NFTs?
There are many different schools of thought when tackling this question. Initially, NFTs were seen as the solution to the problems of Web 2.0 where creators, who were often at the mercy of large tech corporations who monetised a combination of unique content, community engagement and data for profitability, simply weren't being compensated fairly. In this scenario, Web3 and specifically NFTs, remove 3rd parties from the equation allowing the community to directly access, purchase and own digital content directly from creators. But this doesn't just impact digital-first creators. Recently, Dolly Parton launched limited editions of her new album Run, Rose, Run in the form of an NFT16. In this scenario, the middle man could be seen as the record label, but either way there's a sense of optimism for creators who finally have the opportunity to be rewarded for their creativity.
While artists and creators were amongst the first to understand the impact of NFTs within their industry, there is a deeper sense of possibility that is coming into play and although not mainstream, it's important that we consider these newer NFT applications in order to understand the opportunities for businesses.
Real World Assets as NFTs
The ways that NFTs can be constructed allows for different use cases and therefore, they present an ideal way to represent real world assets such as art or even real estate. In fact, there have already been real estate transactions that were completed using the sale of NFTs. Despite being in the early days of this technology, these types of transactions have already tackled traditional processes, threatening the status quo by ultimately removing middlemen from the equation and therefore saving both time and money from the process. We're aware of the changing needs of GenZ as an audience and long, drawn out purchasing cycles and bureaucracy is certainly not desirable.
NFTs as a Community Enabler
It's fair to say the the early NFTs were certainly focused on the ownership aspects of digital assets but combined with other technology, NFTs are quickly becoming a validation token (or ticket) for access into communities of like-minded individuals who all have one thing in common - ownership of a specific type or part of a collection of NFTs. Using platforms such as Discord, NFT holders can access a collection's dedicated channel and communicate with other 'members' after validating their NFT ownership.
This progression is happening at an incredibly fast pace with hundreds, if not thousands of new NFT collections being launched each month enabling new communities to be formed within days. Connectivity and interoperability between platforms is key to this with digital wallets being used to validate ownership using 3rd party applications that have been built to work with platforms such as Discord. Most communities have an open area where those who want to be a part of the community can participate and engage with other communities; however, those with validated NFT ownership can access member-only channels where privileged content, insights and opinions can be accessed.
It's important to note that NFT ownership doesn't just unlock new Discord channels for validated owners. There's now an increasing demand from members for utility, whereby additional benefits - including but not limited to financial benefits such as discounts and savings can be achieved. The term 'game-changer' is often bandied around without justification, but for those who understand the benefits of being a part of an exclusive community or network through ownership rather than social status, the provision of utility as a reward for NFT ownership certainly can be regarded as a game-change for many.
Our NFT Services
Nexa provides a full range of NFT services for companies looking to launch their own collections.
NFT Strategy Development
NFT Design, Creation and Minting
Blockchain and Smart Contract services
NFT Minting Website Creation
Discord and Telegram Setup and Community Management
NFT Project Marketing
if you're looking to launch a new NFT project and require assistance, speak to our team today by completing the form on this page.
Metaverse and Web3 White Paper
Free White Paper: Introduction to Web3 and the Metaverse
There's a real buzz about Web 3.0 and the Metaverse right now...
But where do you start? What are the key aspects of Web 3.0 and the Metaverse that you need to be aware of? More importantly, where are the opportunities for you and your business?
The purpose of this White Paper is to provide a clear and concise understanding of the fundamental aspects of Web 3.0 using laymans terms and real life examples to help illustrate the opportunities that exist now. In the digital world, first-mover advantage is a very real concept and those who embrace this will stand to benefit faster than others.
Learn how:
A decentralised world challenges everything we take for granted today

The Blockchain supports commercial Web3.0 opportunities

NFTs really can provide value to businesses who care about their communities

DAOs have the potential of impacting every business now and in the future
Download the White Paper and start your Web3 journey today.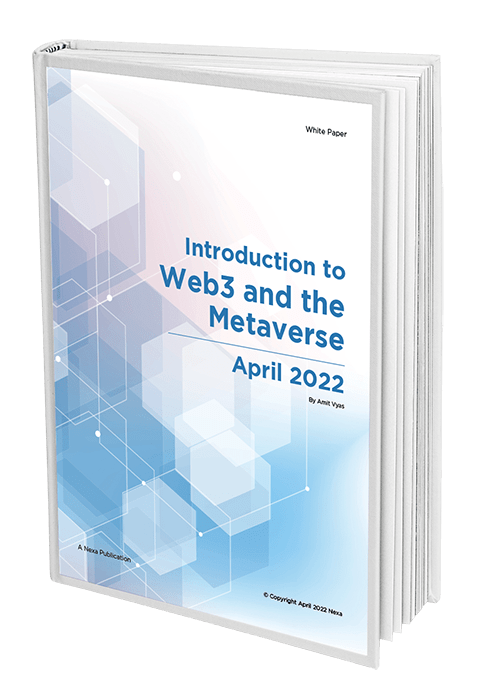 Stay Plugged
Subscribe to our newsletter and stay updated on the latest design stories, new projects and case studies.